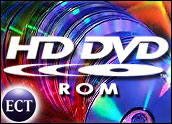 New software is now making it possible to remove Advanced Access Content System (AACS) encryption from HD DVDs, enabling users to play discs on non-HDCP (High-Bandwidth Digital Content Protection) compliant graphics cards and displays.
SlySoft, a DVD-authoring software firm based in Antigua, has released the first version of its AnyDVD HD, a program that makes circumventing HD DVD copy encryption an easy process for even the casual tech enthusiast.
AnyDVD HD cracks protections on HD DVDs that were designed by a consortium of companies, including IBM, Microsoft, Intel, Panasonic and Sony. The group developed specifications for the AACS encryption and now licenses it to manufacturers to protect video content.
Because SlySoft is based in Antigua, the company claims that the Digital Millennium Copyright Act (DMCA) does not apply to it.
Removing Barriers
"For the first time, it is possible for the average user to get around the previously uncrackable AACS copy protection of the new HD DVD generation with a few simple clicks of the mouse," SlySoft says on its Web site.
The AnyDVD software works in the background to automatically remove the copy protection of a movie DVD once it's inserted into a system's drive, allowing users to back up the movie using other SlySoft tools such as CloneDVD and CloneDVD mobile.
The software can also remove unwanted movie features, including subtitles and prohibition messages such as copyright and FBI warnings, according to the company.
Pirating Concerns
The film industry and the AACS are likely not thrilled over news of the new software, said Rob Enderle, a principal analyst with the Enderle Group. However, they probably aren't overly concerned about mass pirating of their products by individuals, because costs would run much too high at this point.
"The cost of an HD DVD burner and blank discs is probably too expensive for most users," said Enderle. "It would be cheaper to buy the original HD DVD disc."
While an argument for fair-use rights can be made regarding the legality of such decryption software, the AACS is still protected by the DMCA, Enderle told TechNewsWorld.
Nevertheless, there are several freely available programs to remove DVD protections and allow users to alter the content on DVDs for their own use, he pointed out.
Past Experience
SlySoft is putting its own spin on its new product release: that even though the massive film industry is "officially" unhappy with the new software, the story may be different below the surface.
"They are likely pleased to have learned from past experiences with the CD and DVD that the users are now finally able to make unlimited use of this new medium HD DVD; i.e., to enjoy his 'fair-use rights.' It is expected that a real 'boom' will occur with HD DVDs," SlySoft said.
Growing Challenge
The release makes protecting copyrighted material from illegal distribution harder, said Enderle.
The industry will eventually forgo new copy-protection schemes in favor of other distribution models, he predicted, most likely deferring to subscription-based downloads.
The software is available for US$79 and can be purchased at SlySoft's Web site.