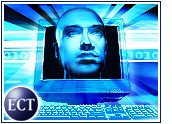 Software agents are beginning to emerge from their initial status as a computing and communications curiosity, and are providing customer service on the Net for major companies like Microsoft and Symantec. Beyond consumer applications, agents are even routing and scheduling warplanes on aircraft carriers in the Indian Ocean.
While the popular conception of an agent is a cartoon character who talks with or interacts with a visitor to a Web site, today's technologies are much more sophisticated than that. Venture investors are eying the agent niche — and its associated artificial intelligence and linguistics technologies — as a possible major market opportunity.
"By conducting dialogue with customers, virtual agent technologies can more quickly identify customers' problems and therefore provide appropriate solutions faster than traditional search interfaces," Timothy Hickernell, senior program director for Web and collaboration strategies at Meta Group, told TechNewsWorld.
"By capturing this dialogue, virtual agent technologies can record important self-service interactions that traditionally go unrecorded, and forward this contextual dialog to customer service personnel."
AI Agents
One significant player in the burgeoning agent marketplace is Research Triangle Park, North Carolina-based LiveWire Logic, creator of an innovative approach to online customer self-service based on computational linguistics and artificial intelligence technologies.
LiveWire's agent technology is designed to provide accurate, consistent and immediate answers to customer inquiries through interactive text-based conversations. Last spring, the company closed a $2.8 million venture capital round led by Gray Ventures of Atlanta. Other investors in the deal included A.M. Pappas, The Atlantis Group, Charlotte Angel Partners and smaller individual investors.
The technology developer's product — called RealDialog Agents — is an agent designed to answer the majority of customer questions without the need for human intervention. According to the company, the software has the effect of reducing stress on all support touch points and lowering the cost structure associated with customer support and call centers. It is also designed to give customers answers quickly to improve customer satisfaction. With human-like conversations, these agents are said to provide an engaging — and even friendly — customer service touch point.
Design, maintenance and administration of the LiveWire agents is said to be simple, even for personnel who are not programmers, because the software employs drag-and-drop capabilities and automated-authoring functionality.
Agents, Away
The U.S. Navy and U.S. Marine Corps are among those using agent technology. Today, the Office of Naval Research announced a $5.74 million contract with the University of Southern California and Vanderbilt University to use agent software developed by computer scientists at the schools.
"The software helps the military coordinate the many activities involved in preparing for combat, and in combat itself," Robert Neches, a computer scientist at USC's Information Sciences Institute, told TechNewsWorld. He noted that the software helps reduce risk, increase the likelihood of mission success and actually "support the commanders' intent."
The agent software is called Autonomous Negotiating Teamware, and it features individual software modules that represent different concerns and goals involved in managing a combat air squadron. The software modules communicate with each other, share information and overrule each other — or even yield — according to a set of predetermined parameters set by the Navy and Marine Corps.
Four-Minute Job
This technology can save a lot of time for Navy and Marine Corps pilots out at sea. "It takes an experienced operations scheduler as much as six hours per day, and lots of time for a maintenance controller as well, to create daily schedules that balance all the variables," Col. Russ Currer (USMC, Retired), a former Harrier pilot and former commander of the Marine Air Group 13, told TechNewsWorld. "This software lets them do the job in four minutes."
The software ensures that pilots get a maximum amount of flying time per week — 10 to 15 hours each to maintain their ratings — and that the skies are suitably safe in terms of traffic management before they depart. Weather also is taken into account by the agents, as are potential schedule bottlenecks.
The Marine Air Group 13 — onetime home to both John Glenn, the retired astronaut and U.S. Senator, and World War II flying ace Pappy Boyington — has been deployed recently in the Middle East, including in Afghanistan.
Social Intelligence
Researchers also are working on ways to add social intelligence to software agents, enabling people to interact with computers in a less static way and allowing computers to respond to users' emotions more effectively.
Overseas, scientists at the University of Southampton in England have developed a software agent that serves as a mobile butler that will travel with people and manage their schedules, including setting up meetings and restaurant reservations. The software features learning algorithms that help the agent adapt to user needs and, eventually, manage the user's time the way a personal valet or butler would.
Thus far, the futuristic technology has been limited to on-campus network use by the Department of Electronics and Computer Science at the university. But today, regular consumers still can tap into the benefits of agent technology, albeit less sophisticated.
Palo Alto Software, based in Eugene, Oregon, offers agent-based computer software to help small businesses create business plans, and its product has been regularly ranked as among the best-selling business planning software in the U.S. retail market, according to research firm NPD Intellect, formerly known as PC Data.
"Palo Alto will be launching the 2004 version of its Business Plan Pro software at the end of the summer," Dina Petrosky, a spokesperson for the developer, told TechNewsWorld.
Agent Trends
Inundated with customer service requests, companies are looking for ways to serve customers more effectively to distinguish themselves from the competition. Forrester Research reports that, in the near future, 50 percent of customer service will be provided online, and the number of Web-based call centers run by companies will double.
Companies like Microsoft, Symantec, 3Com, Circuit City and Sprint are already using agents in their technical support efforts online to help users complete registration forms and answer questions about processes, services and products.
This initial trend could indicate that other companies — large and small alike — will be employing agent technology, like the kind offered by LiveWire, to meet increasing customer service demand and remain competitive.