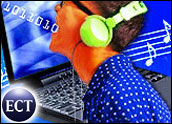 Sony BMG has come roaring out of the gate, two days after the Supreme Court ruling that file-sharing programs can be held liable for copyright infringements, announcing a deal with Mashboxx for a legal music-swapping service.
The service will charge 99 cents per song and be populated by Sony BMG artists. The application allows individuals to search for songs, but, working with Snocap, Mashboxx will be able to check a song's digital "fingerprint" to see whether it is copyrighted. If a song is on the network, but is unauthorized, Snocap will offer the searcher a legal version of the song for sale.
Napster Founder's Company
Snocap is a digital licensing and copyright management company run by Napster founder Shawn Fanning. It has agreements with EMI, Universal and many independent labels as well as Sony BMG.
In a trump of iTunes, Mashboxx users will be able to listen to entire songs for a limited number of times before deciding whether or not to buy them. Apple's iTunes offers only snippets of songs for preview.
But one analyst said that competition may not affect iTunes' bottom line.
"Digital music is a business," Isaac Josephson, senior account manager, NPD Group, told TechNewsWorld. "There's always an opportunity to draw consumers away from one service and to another. But at this point we've seen that digital music is largely additive."
Make It Simple
The key, Josephson said, is not what features Mashboxx offers, but how it offers them.
"To get you in the door, it's all about marketing. Apple has been very savvy about marketing to consumers. Once you're in the door, it's all about ease-of-use," he said. "It sounds like a compelling feature, but it depends on how it's integrated."
Mashboxx is still in beta testing, but is expected to be released in July.
"Sony BMG Music Entertainment has done the heretofore unthinkable: embrace file sharing," Mashboxx CEO Wayne Rosso said in a statement. "And in so doing has displayed great courage and foresight. We at Mashboxx are clearly overjoyed because this is a watershed moment in the evolution of the digital music marketplace. We hope it will be the harbinger of a brighter future for content owners, P2P technology and, of course, users."
Rosso also said that Mashboxx is negotiating with the other major and independent record labels.
Apple has sold 430 million songs through iTunes, but points to peer-to-peer downloading from Grokster, Kazaa and others as its biggest competition.