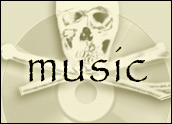 Sony BMG Music Entertainment announced that it has been testing a digital rights management (DRM) system called "sterile burning" and has already released 10 CD titles — about 1 million discs — with the copy protection. It did not say which ones they were.
"Sterile burning" limits the number of copies a consumer can make from a purchased CD and prevents copies being made from copies.
Average Consumer Won't Be Impeded
Although some worry that these measures will limit "fair use" or the ability of consumers to use purchased material legally, analysts disagree.
"The fact is, except for a handful of crooks who really want to make a profit from pirated CD sales, the majority of consumers are innocent and the rights control prescribed by the DRM adequately satisfies their needs," Harry Wang, research analyst, Parks Associates, told TechNewsWorld. "If the control on CDs is reasonable and considerate of consumers' usage patterns, with other incentives, such as bonus features or reduced pricing, I don't believe consumers will continue to balk at it in the long run."
Susan Kevorkian, IDC senior analyst, consumer markets, also thinks the solution is a good one.
"This technology offers a middle ground for the music industry and music consumers," she told TechNewsWorld.
Online Music Protected
Online music stores already copy protect the files they sell. Song tracks can be burned into unprotected WAV files, ripped back minus the DRM and converted into MP3s.
The technology Sony is testing, which was developed by a UK anti-piracy firm, First4Internet, allows for copying ripped and burned tracks from a copy-protected disc to a blank CD in WMA format. The DRM on the disc remains intact and prevents the CD from being duplicated.
The format is not compatible with iPod since Apple has not licensed its FairPlay DRM for use on CDs.
Wang said he believes piracy and consumer copying are two separate issues. "Parks consumer data consistently show that among music listeners, about half have at least some portion of their CDs from a ripped source. The other half never ripped CDs. And heavy rippers at the same time are also heavy purchasers of CDs," he said.
Get Used to It
While consumers are not thrilled with the idea of DRM, Parks Associates surveys show that they are adjusting to it.
"If given a choice between a copy-protected CD and a normal CD with the same content, same features and same price, you would probably act like me and select the normal CD. People always want more freedom," Wang said. "So the issue really is about the business models employed to induce consumers to get used to the copy-protected CDs. Online digital music from the start employed DRM to protect willful copying and redistribution of music. I didn't see a significant amount of complaints from consumers about being unable to copy thousands of times."
Kevorkian pointed out that most other digital content is already copy-protected.
"The DVD specification, unlike the CD, includes native content protection. Cable and satellite TV protect their transmissions with conditional access and the majority of online music service offer DRM-protected music, just to name a few examples," she said.