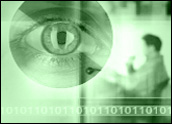 While several reports today are saying that rivals Sony and Toshiba, who are each touting their own standard for high-definition DVD, are discussing a standard optical disc format, the companies are distancing themselves from that statement.
They both seem to have the consumer's interest at heart, with a Toshiba spokesman saying that a single format is in the best interest of the industry and the consumer and Sony's spokesman saying that the company wants to provide the consumer with the best experience possible. The problem comes in agreeing on what that is.
Battle Continues
"Certainly it appears that there's no detente when it comes to high-definition DVD," Michael Gartenberg, research director at Jupiter Media, told TechNewsWorld. "Whatever concessions there might have been weren't concessions at all."
Sony is pushing its Blu-ray format, while Toshiba calls its discs HD DVD. Single-layer Blu-ray discs will have a 25 GB capacity, dual-layer discs twice that. HD DVD's capacity is 15 GB, but supporters of the format say it more efficiently writes data to discs.
But the technology itself is not the question. Rather, it is which will be able to gain enough traction in the market. "All they're doing is making consumers wait on the sidelines to see which will be the more successful," Gartenberg said. "It will come down to who content vendors bless and who will ultimately make the most devices and get the economies of scale to drive the prices down."
Prize May Be Worth Risk
Although the industry — and Sony in particular — could take a lesson from the video wars, in which Sony's proprietary Betamax format lost out to VCR, winning the war could be worth getting into the fight.
"The stakes are high. Whoever controls the standard, controls quite a bit. The question is, do you work out a compromise or roll the dice?" Gartenberg said. The first high-definition devices are not expected to appear until the end of this year, which means the companies could still hash it out.
"There's still time to figure this out and get the technology together so there's no doubt in consumer's minds which way to go. Both parties would be well-served to come up with a solution that the whole electronics industry can rally around," Gartenberg added, citing the current DVD platform, which is now pervasive and was not hampered by multiple standards when it came out.