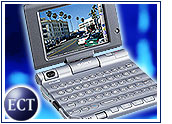 Sony Electronics has introduced two new Clie handhelds designed for wireless communications, portability and multimedia. The PEG-UX40 and PEG-UX50, both with built-in wireless connectivity as well as key processing components manufactured by Sony itself, will be available in Japan starting in early August and in the United States in early September.
"The new Clies are a really great design," Allen Leibovitch, IDC manager of wireless semiconductor research, told TechNewsWorld. "If you think of a tablet PC, the new Clies are miniature versions of those."
The PEG-UX40 will cost US$600 and will come with built-in Bluetooth technology for wireless connections to other portable devices, such as mobile phones and notebooks. The $700 PEG-UX50 will come with both Bluetooth and WiFi technology for connecting to wireless networks and sharing resources, such as broadband access.
Both devices use Palm OS 5.2 and feature a completely new form factor that resembles a miniature notebook with a screen that swivels 180 degrees. "We're creating a new mindset of what a PDA is and what a PDA is not," said Mark Viken, senior vice president of information technology products at Sony Electronics.
Processing the Possibilities
The devices are the first in the Clie line to come with built-in wireless technology. "I was impressed that they could get WiFi and Bluetooth in the same machine without any antennas sticking out," said Leibovitch.
Also, these Clies are the first among Sony's handheld offerings to be based on the company's own in-house silicon. "It's a departure from the other chips they've been using," said Leibovitch, pointing out that Sony's use of its own chips could negatively impact Intel's sales in the mobile chip markets.
Sony has designed, engineered and manufactured the new processor to be optimized for multimedia, battery life and miniaturization — all essential factors for a PDA.
Taking a similar approach to Intel's Xscale processor — designed to save power by scaling its speed according to processing requirements — Sony's new processor automatically operates at a frequency that draws a minimum of power supply voltage by monitoring its speed, resulting in what the company is calling the world's first commercialization of voltage-control functions.
Beyond the Tool
When people think of data, they typically think of office documents or, in the handheld world, address books or calendars. "We see beyond the 'tool' aspect of the handheld market," said Masanobu Yoshida, president of handheld computing at Sony.
The new handhelds come with an integrated digital camera, voice recorder, digital audio player, Memory Stick expansion slot and color screen that has a resolution of 480 x 320 pixels. The screen has one of the highest resolutions for a handheld currently on the market.
"The battery, screen, CCD and chip all come from Sony," said Viken. A CCD (charge-coupled device) sensor is one of the main parts of a digital camera. The battery is made of a lithium-ion polymer, and the chip is the Sony CXD2230GA.
The chip tops out at 123 MHz and includes a graphics engine, camera interface and Memory Stick interface. It is manufactured at the same Nagasaki, Japan, plant where Sony is manufacturing the chip that will power the upcoming Sony PlayStation 3 game console.
Handheld Market
The market for handhelds has been in decline of late, with worldwide shipments falling 21 percent to 2.45 million units in the first quarter, according to research firm IDC. Demand in the business and consumer markets has cooled despite new devices and lower prices.
In the first quarter, according to the IDC report, Sony lost its No. 2 market share position to Hewlett-Packard. HP has about 18 percent of the market, and Sony has slightly more than 16 percent. Palm maintains its No. 1 position in the PDA market with 36 percent.
If Sony's in-house manufacturing of key PDA components can help the company lower its end-user costs by reducing its own manufacturing costs, the company may be able to increase its market share.