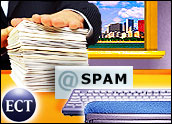 An unsolicited e-mail arrives in your in-box from Marc Racicot, chairman of the Bush-Cheney '04 campaign, asking you to donate "using our secure server," at www.GeorgeWBush.com/Contribute/, a total of $2,000, $1,000, or a smaller sum, to keep TV ads exposing John Kerry's miserly defense spending record on the air.
Political spam, like this message, is exempt from prohibitions passed late last year by the Congress in the CAN-SPAM Act.
In fact, experts tell TechNewsWorld that since the dawn of the law on January 1st, spam e-mail has increased dramatically, perhaps due to the election year or other commercial factors beyond the ken of researchers presently.
No Magic Bullet
"Legislation is not a magic bullet for controlling spam," Alex Eckelberry, president of Sunbelt Software, said in a statement sent to TechNewsWorld.
The company backs up its assertion with an astounding poll: More than 90 percent of e-mail users continue to receive the same — or even more — spam in the few months since the CAN-SPAM Act became national law, despite the fact that those convicted of sending spam can be sent to prison or fined substantially.
Sunbelt Software, located in Tampa, Florida, conducted the poll of 961 respondents from February 6 to 24, 2004. The survey showed that fewer than five percent of e-mail account users have seen even a "slight drop off" in spam since the act was passed. Approximately 30 percent of spam recipients said there has been "no change" in the amount of spam they receive. Most astoundingly is the fact discovered by the survey that more than 62 percent of e-mail users have "noted an increase" in spam since the bill became law.
Another social science study, conducted by the Pew Internet & American Life organization, said that the proliferation of spam has driven users to rely on e-mail less frequently than before. The survey's sponsors think that this means that rather than check e-mail multiple times during the day, users are doing so perhaps once a day.
The Pew study was based on a phone poll of 1,400 Internet users, reached during February.
Most E-Mail is Spam
The survey posits that 60 to 80 percent of all e-mail, at any particular time, is spam, or unsolicited commercial e-mail.
The CAN-SPAM Act makes it a criminal offense to falsify subject lines in e-mail and to provide "unsubscribe" links within the message that do not work.
The Bush-Cheney spam, cited above, does indeed conform to that portion of the law, even though, as political content, it is exempt from the draconian legislation. "If you no longer wish to receive e-mail from us, please follow this link to unsubscribe," says the campaign e-mail obtained by TechNewsWorld.
Many electronic marketers, however, are trying to eschew the use of spam, and employ other means to attract clients online.
Aggressive Affiliate Program
One firm, DentalPlans.com, uses an "aggressive affiliate program" to generate business, a spokesperson in Dania, Floridia, tells TechNewsWorld. This program works well because it solicits users who are visiting the dental site with offers from other affiliated providers while they are on the site, not while they are doing something else, like opening e-mail.
"The beauty of the affiliate program is — with the down economy and corporate cutbacks — it encourages entrepreneurship and home-based businesses," said the spokesperson.
A survey last fall by the Direct Marketing Association — the Chicago-based trade group — discloses the commercial reasons why spam is still so popular with producers, if not customers.
E-mail generates $32 billion in sales per year today, DMA reports.