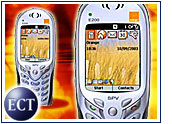 Spammers are now targeting mobile phone subscribers throughout Asia, sending text messages through the ubiquitous short message service (SMS) system. The practice is generating concern at major technology companies like Microsoft and NTT DoCoMo about a potential emerging tsunami of unwanted e-solicitations.
Market research firm TNS Consulting indicates that SMS is very popular in Asia, particularly in the Philippines, where wireless phone service subscribers each send about 252 messages per month. Japan and China are also major users of SMS technology. A major spike in usage was recorded during the Lunar New Year holiday, marking the Year of the Monkey, with several billion messages being sent among Chinese speakers.
The proliferation of spam on SMS and other text-messaging services — which are also available in the United States and in Europe — could increase costs for businesses because of the related IT expense associated with handling the boost in spam traffic.
Wasted IT Resources
A study by Ferris Research indicated that conventional e-mail spam costs US$20 billion per year worldwide, and 44 percent of that cost is in "wasted IT resources." An additional 39 percent of the cost is in "lost productivity," including time spent deleting spam, and another 17 percent is related to help desk support costs.
"The trouble is, spammers are becoming increasingly sophisticated, and the traditional antispam tools that most companies are using offer insufficient protection," Gary Steele, CEO of Cupertino, California-based antispam security provider Proofpoint, said in an interview with TechNewsWorld.
The antispam industry is working on new filters to protect users to make sure only "relevant content" actually arrives at any user's inbox. "This goes beyond changing e-mail addresses and subject lines," Clint Ballard, CEO of eAcceleration, an antivirus company located near Seattle, said in an interview.
But companies in Asia are quite concerned that spammers could kill off the nascent SMS business before it matures.
Blocking the Messages
Wireless telecom purveyor NTT DoCoMo, the largest such firm in Japan, has warned subscribers about spam that calls for donations of blood for a child's operation and other mailings — purportedly from the firm itself — that ask for wire transfers to a specified bank account.
The company is taking matters into its own hands with technology. The wireless provider has disabled more than 2,000 phone lines due to "spam abuse" and is blocking messages that are sent out randomly to the NTT SMS network.
What makes it relatively easy to send spam to the SMS networks is the wide availability of connection devices that allow users to plug their mobile phones into their computers. Once connected, spammers can use software to generate text messages without having to type them into the small, phone-size keypads.
Microsoft is helping stem the tide on the e-mail front by beginning a global antispam campaign. The problem is that, as with spam sent to conventional e-mail accounts, any filtering system introduced to the industry so far has created problems with false positives, which means legitimate messages are sometimes identified by the filter as spam and blocked.
Legitimate Marketers
The spam issue could hurt legitimate marketers, such as Asian coupon companies, many of which send messages to users with e-coupons that activate when the mobile user is walking near the store that is offering the promotion.
One reason why spammers are targeting mobile users is that SMS can generate immediate responses to users, who almost always have their mobile phones with them. SMS is more immediate than e-mail, which is now becoming more like conventional mail — opened at the convenience of the end user.
To block spam properly, advanced technologies are being developed to employ a "cocktail" approach to analyzing SMS messages, including weighted content filtering, advanced heuristics, white- and blacklists, complete analysis of content and header, and integration with DNS blocking lists.
"These analysis techniques can be combined to create a profile for each message," MessageGate spokesperson Karli Overmier told TechNewsWorld. Whether or not a combined approach proves to be more effective than any single approach remains to be seen.