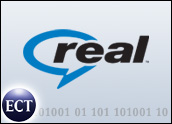 The latest addition to cell phone services allows Sprint customers to listen to radio over their handsets. Sprint today announced a deal with RealNetworks to broadcast Rhapsody Radio over its cellular network.
Seven cell phone models will be able to access the streaming radio for a monthly service fee of US$6.95. In addition to stations in genres such as rap, hip hop, alternative, pop and country, which were created expressly for the service, Sprint will also carry streaming podcasts from KCRW, the Santa Monica, Calif.-based National Public Radio station, and others.
The companies have also added "Beats N Breaks," which streams just the beats from songs so that users can write and perform their own raps over them.
The broadcasts will be accessed through a menu option on the radio-enabled phones.
Different From ROKR
The service differs from Motorola's iTunes-enabled ROKR E1 phone in that Sprint's handsets will not store music; they merely act as a radio receiver. The ROKR service is available through Cingular.
IDC research analyst Dave Linsalata pointed out that the upfront investment for consumers is much lower with Sprint's offering than with the ROKR.
"The negatives are, you don't have complete control of what you're listening to. You're limited to what the carrier's offering," Linsalata told TechNewsWorld. "The positive [for Sprint] is that with the ROKR you have to buy that phone. With MP3 phones in general, without sufficient storage, it's not a great experience. With Sprint, you're limited to certain phones, but you just buy the service and you're done. There's no hardware investment."
The biggest advantage of Rhapsody Radio for the industry, he said, is that it will broaden consumer awareness of listening to music over their phones. "There are a number of devices you can use to play MP3s or music on your phone, but not a lot of users know about it; not a lot think of the mobile phone as a good platform for music," he said.
Combination Services
Linsalata said he imagines a hybrid service will eventually combine some of the different music technologies available today. One possibility is a service where the radio "learns" what songs a consumer likes, based on what they listen to and what they skip, something that is already available in online services such as Yahoo and MSN radio.
While Sprint may be trying to attract new customers or add revenue from current customers, Yankee Group analyst Linda Barrabee said the main focus of consumers is still the communication service itself.
"It's still very much about price, coverage, quality of the network … then very far down the list are these kinds of added services," she told TechNewsWorld. "Only 5-7 percent of revenue comes from non-voice applications, and the lion's share of that is messaging. So it's still communications."
Rhapsody, RealNetwork's subscription music download service, has about 1.1 million subscribers. It launched in May 2003. Sprint had 18.3 million direct customers in the first quarter, Barrabee said.