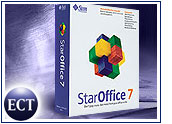 The new offering by Sun Microsystems — StarOffice 7 for the Solaris x86 desktop platform — might be embraced by some corporate users as a way to provide leverage in future negotiations with Microsoft, computer industry analysts said. The move also could pave the way for Sun's planned Java-based desktop product for the x86 architecture.
Sun's StarOffice is a business productivity suite and is compatible with Microsoft Office file formats. It offers users word processing, spreadsheet, presentation, drawing and database applications. The new release comes on the heels of news that one of the largest insurers in India is replacing about 10,000 Microsoft Office desktops with StarOffice software.
Sun also announced a multimillion-dollar deal with Japanese computer products distributor SOURCENEXT to provide the Japanese version of StarOffice, StarSuite 7, to some 15,000 retail locations in Japan. As a key part of its Java Desktop Platform, Sun has distributed massive numbers of StarOffice copies to China, Britain and Israel through government contracts.
As of last month, Sun said the number of cumulative downloads for StarOffice and OpenOffice had exceeded 40 million. Furthermore, Sun saw more than half a million registered Solaris x86 licenses in 2003 and said it is actively working with partners and business application vendors to make sure it doesn't lose momentum.
Alternative Applications
"IT departments are increasingly willing to at least consider alternatives to Microsoft, if for no other reason than to better their leverage with respect to Microsoft negotiations," Stephen O'Grady, a senior analyst with consultancy RedMonk, said in an interview with TechNewsWorld. "StarOffice can benefit from that trend."
"It's a good strategy for Sun," Gordon Haff, a senior analyst and IT advisor at Illuminata, told TechNewsWorld.
Sun differentiates itself in that the platform uses an open XML-based file format as its default, enabling anyone to use widely available tools to open, modify and share StarOffice content — including some with Microsoft's Office import and export filters.
Research shows that Linux is more popular with small companies than with larger firms — despite the operating system's image as a tool for tech sophisticates.
To be sure, smaller firms have commensurately smaller IT budgets. Still, a study by investment bank SG Cowen, released recently, indicates that a total of 22 percent of firms with sales of up to US$50 million are using Linux for many desktop PC operations. But just 8 percent of firms with sales of $500 million or more are embracing the software for desktop ops, said SG Cowen.
Strategy Resonates
"Sun's strategy has resonance on a number of levels," said O'Grady. "From an enterprise software standpoint, they are pushing forward using a differentiated model of integration and employee-based pricing — which compels interest. And on the desktop level, Sun's combination of the Java Desktop System and StarOffice is a viable and cost-effective alternative for many enterprise user constituencies."
Right now, however, it is unclear to analysts how much revenue the company is actually generating from StarOffice. "As to the precise economics of StarOffice, I can't comment because we don't track the development costs versus the revenue," said RedMonk's O'Grady. "I wouldn't say StarOffice alone is a tremendous revenue generator, however."
"I can't say whether Sun is yet making money with StarOffice," added Haff. "However, Sun's intent is clearly to make money both with the StarOffice product itself and as a component of the Java Desktop System."
Haff said that, for analytical purposes, one can consider StarOffice and OpenOffice as essentially the same application. "StarOffice is essentially just the boxed and supported version of OpenOffice with some additional updates that may not have made it into the open-source OpenOffice yet," said Haff.
Not Clear, Present Danger
Nonetheless, both analysts said that, long-term, Sun's strategy might be a threat to Microsoft.
"It's a threat even if its market share is still relatively low," said Haff. "And you need only look at how aggressive Microsoft has gotten in promoting the low-cost 'educational' version of Office 2003 to see that Microsoft is clearly concerned about losing share in the home and small business markets to StarOffice and OpenOffice. So it's having an impact."
O'Grady emphasized that the products are not a "clear and present danger" to Microsoft's market dominance. "But clearly the potential is there," said the analyst.
The new version of StarOffice 7 — which will sell for $79.95 retail — includes 60-day support and PDF and Flash export capabilities. The Enterprise Edition of StarOffice, which adds an enterprise configuration and management tool and a software development kit, ranges from $60 per user for 25 users to $25 per user for 10,000 users.