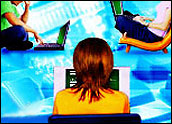 Former California governor Jerry Brown — once a darling of the mainstream media, or "MSM," — now has his own blog, where he can get his message directly to voters, without any interpretation by print or electronic journalists. Politicians in North Dakota, similarly, have taken to blogging to market their message.
Is this a good thing? Should the political bloggers be viewed, by the public, in the same light that conventional journalists are? No, they should not, say some consumers in a surprising new survey.
A significant minority of respondents to a survey conducted by Hostway.com, a national provider of managed Internet services, say that bloggers should not benefit from the same First Amendment protections that are afforded conventional journalists. Twenty-one percent of those surveyed by Hostway — which queried 2,500 adult consumers this spring — held that opinion.
What's more, 80 percent of those surveyed said that bloggers should not have the right to publish private information — addresses, phone numbers — of private citizens. Sixty-eight percent of those surveyed said that bloggers should not be able to publish such information about elected officials.
Opinion Leadership, Not Journalism
Blogs often provide hyperlinks to important reports that have been posted by other news organizations on their Web sites, and original commentary on the meaning of the developments.
"It certainly isn't journalism," said Alex Halavais, an assistant professor of communications at the University of Buffalo. "But it is moving opinion leadership into the online world."
Rather than allow the New York Times, Washington Post or Wall Street Journal to set the agenda for discussion on a particular day, the blogs' authors pick and choose news stories — often from the inside pages of smaller papers or magazines, or even other sites, to shape their readers' perception of the world.
One-time Democratic presidential front-runner Howard Dean last year ascended to national prominence largely on the strength of his blogs and their cantankerous take on Bush administration policies.
Qualitative Influence
"Dean is going to be pointed to for a long time as the pioneer of a new, interactive method for voters to speak to each other," said Paul Gronke, chairman of the political science department at Reed College, a leading liberal arts school in Portland, Ore.
Republican activists in South Dakota also used blogs effectively last year to beat then-Senate Majority Leader Tom Daschle.
Most of the information about the influence of blogs has been qualitative — anecdotal, based on what readers say about the sites. Until now. The study by Hostway, which is based in Chicago and has about 300,000 subscribers, indicates that, despite their reservations about blogs, consumers do accept them.
"We're beginning to see blogs starting to take the place among other media," said John Lee, vice president of marketing at Hostway.
Older consumers are less accepting of blogs than are younger consumers — those age 30 or younger. Research by Hostway indicates that younger consumers probably have more exposure to blogs than older folks do, which probably accounts for their more accepting attitude toward the new medium.
Gaining Overseas Popularity
During the last year, blogs, a contraction for "Web logs," have grown in popularity overseas too, especially in Iraq, where they report views that are not commonly being aired in the conventional media.
While American bloggers have challenged the veracity of major media reports, their Iraqi counterparts are creating a true, free press, online, in their homeland, for the first time in that country's modern history, using Internet technology.
"This media technology is being used as outreach to tell the world their story," said David Abel, editor and general manager of PoliticsOnline, which tracks online political campaigns.
Hostway believes that older Americans will embrace blogs in the coming years, and that business blogs will begin to be popular too. "With the right strategy, blogs can be a huge asset to organizations, large and small," said Lee of Hostway, whose survey is available online. "They are cost-effective, attract a well-targeted audience, and, in some cases, are able to put a human voice to a company."
Left or right, fair and balanced, or none of the above, blogs now compose a permanent part of the political and business landscape.
"Ultimately, it is up to the shopper to decide for themselves if they think the blog is legitimate or interesting or smart," said Steve Davis, chairman of the newspaper journalism program at Syracuse University.