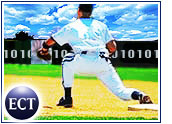 Take-Two Interactive Media may not have hit a home run, but the video-game maker swatted a solid double against its major opponent, Electronic Arts, when it cemented a deal with Major League Baseball.
Take-Two, developer of the wildly popular Grand Theft Auto franchise, signed a long-term agreement with MLB and the MLB Players Association for third-party rights to develop, publish and distribute licensed video games.
Third-party rights means that console makers Sony, Microsoft and Nintendo can still create their own MLB games, but no other software manufacturer may do so.
Staying in the Game
"Take-Two in conjunction ESPN/SEGA posed a real threat to EA in the sportsmarket," Jay Horowitz, senior analyst at Jupiter Media, told TechNewsWorld.
"Moving into the next console cycle, EA has been making some big moves toensure the ongoing success of its sports franchises by locking up long-termexclusive licenses. This deal was important for Take-Two to remain relevantin this category."
In January, EA Games lured rights for ESPN content away from Sega andTake-Two. The company also has locked up exclusive rights to NationalFootball League games for five years.
Take-Two needed the signing in order to get back in the sports market game,a lucrative one for software makers.
Key Category
"The sports game category overall is the most important game genre,"Horowitz said. "These titles are persistently in top 10 games sold, havestrong support from marketing and enthusiasm generated in real life leagueplay, and are stable revenue generators in a market characterized bychangeable consumer tastes. Platform suppliers have made a variety ofattempts to gain share in this segment with limited, if any, success."
Take-Two will need some help scoring with its deal, which begins in spring2006; football games far outdistance baseball in terms of popularity, Horowitzsaid.
The company also announced it has signed Yankeesshortstop and celebrity-about-town Derek Jeter to a multi-year contract topromote the 2K Sports baseball series and appear on its cover.
Take-Two reported annual sales of US$1.1 billion with a net income of $65million in 2004; EA Games reported close to $3 billion in sales with a netincome of $577 million.