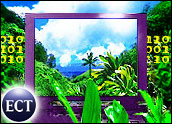 The green technology investment movement is gaining ground. Investors, like AOL founder Steve Case, venture capitalist John Doerr, and Microsoft's Bill Gates, among other luminaries, are pouring millions of dollars into environmentally friendly, or environmentally sound, technologies.
"Green-tech could be the largest economic opportunity of the 21st Century," said Doerr.
In fact, some see "green" technology as the new Internet — a source of unimagined wealth and opportunity.
According to the firm Expansion Capital Partners, clean, or green, technologies netted less than 1 percent of venture capital funds as of six years ago. Today, however, the figure has risen to 8 percent, the firm told TechNewsWorld. In just three years, experts say, the market could be generating US$3.4 billion in venture capital investment per year.
Billions at Stake
The investments are in a number of fields. Gates, for example, has put millions in a firm called Pacific Ethanol. Case has invested in Flexcar, a car sharing service, popular among some urbanites who want a car, but don't want to pay monthly parking bills to house the vehicle. Venture capitalist Doerr has set up a $100 million fund to invest in green technology.
Start-ups are not the only ones picking up on the trend. Major technology companies are now developing and marketing products that are specifically "green," attempting to capitalize on today's high oil prices, and concerns about energy conservation.
"The manufacturing of supplies, especially toner manufacturing, is among the most energy-intensive activities," John Laing, senior vice president of Xerox's supplies unit, told TechNewsWorld.
The company has developed a special embrittling agent, a chemical that reduces the amount of energy needed to make toner cartridge. That's cutting costs by 22 percent at its manufacturing plant — savings which is being passed along to consumers and businesses.
Xerox is well on its way to saving 30 million kilowatt hours of electricity by 2008, Xerox spokesperson, Karen Arena, told TechNewsWorld. That's enough power to light up 24,000 homes for more than a year, or power a lot of PDAs, or Sprint PPC-6700s. "Xerox is innovating for the environment," she added.
That's quite a statement, coming from Xerox, which happens to be the world's largest maker of toner. The company produces toner at eight locations across the globe, including cites in the U.S., like Webster, N.Y., and Oklahoma City.
Several Factors
High oil costs are just one factor driving companies to go green. Another factor that is influencing the trend is low corn prices, which increases interest in ethanol as an alternative fuel. Congress has made innovation easier too — passing a law last year that hastens the adoption of ethanol as an additive in fuels.
One more factor is technological advances, like the one created by Xerox engineers, who reduced energy costs by making it easier to "grind" toner particles in the factory. The toner particles are blown against each other, at high speeds, inside a sealed chamber. Collisions cause the particles to split apart. The Xerox process has doubled the speed of that manufacturing function. The chemical agent responsible for the doubling has been patented, and is now being used in toner for Xerox DocuPrint and DocuTech printers, and is likely to be licensed to others.
The scenario in green investing is akin to that seen in the computer industry in the late 1980s and early 1990s when experimenters were first figuring out that the Internet had mass market potential, and was not just a network for nerds to share stories about their latest motherboard design with each other.
Educators are taking note — and planning ahead for their students' careers.
At Central Michigan University, in Mount Pleasant, Mich., educators are developing a curriculum that focuses on the environment, including topics such as air quality, ecosystems, biodiversity, energy resources and even land usage. "The curriculum is well-aligned with science, mathematics, and social studies, and presents it in a very appealing format," Michael Libbee, a spokesperson for the University, told TechNewsWorld.
Teachers in Michigan are being trained in workshops throughout the state on how to convey the information to the students. This is expected to lead to interest among students in pursing careers in environmental technology — in the coming decade. "We've already offered about 50 workshops statewide," said Libbee. "We have an additional 130 scheduled in the summer and fall."
Other technology leaders are taking note of the trend. Scott McNealy, the chief executive officer of Sun Microsystems, and other technology executives spoke on a panel at a conference about sustainable technology investing. Sun co-founder Vinod Khosla recently started his own fund to invest in clean technologies too.