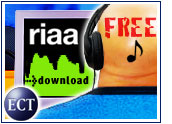 Music fans who download songs from the Internet and share them with friends via P2P technology are still at risk for a copyright infringement claim — and massive financial damages — from the recording industry.
A ruling by the United States Court of Appeals for the District of Columbia late last year heartened many users of Kazaa, Morpheus and other P2P clients that can be used to download songs for free.
The case concerning the subpoena power of the Digital Millennium Copyright Act (DMCA) was brought by Verizon against the Recording Industry Association of America (RIAA), but the case has not stopped the RIAA from pursuing those who trade music illegally.
Record Industry Overreached
The court ruled that subpoena power — created by the U.S. Congress for copyright owners in 1998 — does not give record companies the right to ask ISPs for the identity of users suspected of swapping songs. According to the ruling, the music business overreached by using the subpoenas for that purpose. The law was intended only to identify those who post copyrighted material on public forums, such as chat rooms or bulletin boards.
The law "betrays no awareness whatsoever that Internet users might be able to directly exchange files containing copyrighted works," the court wrote in its ruling.
But entertainment and media lawyers say the record industry still can go after copyright pirates — it's just that the process is not as simple as it was prior to last December 19th, the date news of the ruling emerged.
"Prior to the D.C. Circuit's decision, any file trader, no matter how small-time, was at risk because the RIAA could easily obtain his identity and send him a cease-and-desist letter that threatened litigation if he did not pay thousands in damages," said Jonathan Band, an intellectual property law partner with Morrison and Foerster, a law firm that works with content producers and others in Washington, D.C.
Band told TechNewsWorld that it will be more expensive for the record industry to pursue alleged copyright violators — those who download tunes from the Beatles to Beyonce without paying for them.
"By significantly increasing the costs of obtaining the file trader's identity, the D.C. Circuit's decision will force the RIAA to go only after the big fish," said Band. "As a practical matter, this means that content providers will only pursue file-trading kingpins — individuals who are sharing thousands of files."
Litigation Will Continue
But cost might not be a deterrent for the well-heeled record industry, which has been outraged as it has seen its profits drop dramatically in recent years. Many record labels have claimed this drop is due to use of Internet technology to swap songs for free.
"I do not think the ruling is that significant, since a plaintiff can still get the same information by simply taking another litigation tactic," Anthony Lupo, an intellectual law partner with Washington, D.C.-based law firm Arent Fox, which works with content providers, said in an interview.
The tactic he is referring to is called filing a "John Doe" lawsuit. The record industry simply files the lawsuit against an unknown party, a John Doe, based on an IP address, and serves the lawsuit upon the ISP, which provides that address.
The cost increase in terms of fees is minimal: US$30 for a subpoena-filing fee with the federal courts and $39 to file a miscellaneous action. There are other costs as well, such as increased lawyers' fees for working up the new action rather than just having to fill in a subpoena form.
New Lawsuit Strategies
"Copyright holders will now have to take other — and more expensive — litigation tactics to obtain the identities of people posting infringing music on P2P networks," said Lupo.
But he cautioned that "music fans will incorrectly view this as protecting their identities from the RIAA, and they will likely increase their volume of infringement."
That's a risky route to take, though. Neel Chatterjee, an intellectual property law partner in the Menlo Park, California, offices of Orrick, Herrington & Sutcliffe, LLP, said in an interview that "the RIAA is clearly committed to investigating these activities and pursuing those who engage in unlawful file sharing."
The music industry has been quite aggressive in pursuing alleged copyright infringers, filing several hundred lawsuits since September 2003, primarily against those whom it suspects of swapping 1,000 or more songs.
The RIAA can ask for $150,000 in damages per copyright violation, but it has been known to settle for $2,500 to $5,000 with individuals.
Deterrent from Litigation
The litigation seems to have had a deterrent effect on even those users who have not been sued.
A survey by the Pew Internet & American Life Project showed the percentage of Internet users downloading files fell to 14 percent last fall from 29 percent last spring. That's a reduction from 35 million users to 18 million users, said the survey.
The survey showed that just 1 percent of users typically downloaded a music file on a given day last fall, down from 4 percent last spring.
The music industry is trying, with its litigation, to steer users toward sites where they have to pay for music they download, like iTunes or the new Napster.
Proliferation of free file downloading is also a concern to the movie and TV industries.
The PR Battle
The D.C. Court of Appeals, in its ruling, noted that downloading songs is "damaging" to artists, writers and performers in the record-producing field. The court said it is up to Congress to broaden the law if it wants to protect music companies from online pirates.
"This is a disappointing procedural decision," said Cary Sherman, president of the RIAA, in a statement. "This decision is inconsistent with both the views of Congress and the findings of the District Court. It unfortunately means that we can no longer notify illegal file sharers before we file lawsuits against them."
But, for now, ISPs and their consumer clients seem to be winning the public-relations battle.