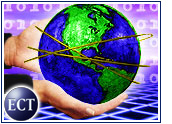 Last year, the growth of the Internet backbone slowed dramatically as network providers around the globe, including KPNQwest, Carrier1 and Energis, reduced bandwidth capacity and, in some cases, brought down certain data pipelines altogether.
Washington, D.C.-based research firm TeleGeography noted that since the birth of the Web browser, international Internet bandwidth had doubled each year — until last year's mere 30 percent increase.
Now, with signs that the U.S. recession has lifted and that technology spending is starting to resume, major telecom companies are once again increasing network backbone capacity around the globe. Also, R&D that quietly continued in the lab during the slowdown is starting to be deployed, but not without a certain measure of cautious hindsight.
Cabling Demand
Two years after the telecom industry began its rapid collapse, the undersea cable-building boom finally came to a halt last year. According to TeleGeography, the completion of transoceanic systems earlier this year by both Tyco Telecom and Cable & Wireless marked the end of a construction craze that increased communications capacity across the Atlantic and Pacific more than 30-fold since 1998.
Only $1 billion is scheduled to be spent on new submarine cables entering service in 2003 — down from $13 billion in 2001.
"The building boom is over because existing submarine cable operators have a great deal of upgradeable capacity available to them at relatively low cost," said senior TeleGeography analyst Alan Mauldin. "Combined with the effects of a cautious investment environment and a general slowdown in demand for long-haul capacity, it's unlikely that we'll see any new cables laid across the Atlantic or Pacific before 2006."
Although the end of the building boom should help take up slack in international bandwidth supply, most analysts paint a stark picture for major network operators. Bandwidth purchases increased just 30 percent in 2002, down from over 200 percent for the past several years.
Furthermore, bandwidth prices have plunged more quickly than planners expected four years ago — more than 90 percent on many transoceanic routes.
Data Consumption Rising
However, it seems that, once again, data consumption is again on the rise. Last week, Sprint disclosed a major expansion of its global IP services in locations throughout Europe and Asia, bringing the reach of its technology portfolio to more than 100 countries. The SprintLink Layer 2 Services portfolio is based on Layer 2 Tunneling Protocol version 3 (L2TPv3), a high-speed networking technology developed by Cisco.
According to Sprint, the company's new global backbone, based on L2TPv3, will help enhance corporate point-to-point networks around the globe.
Meanwhile, Sunnyvale, California-based Juniper Networks also announced a major move overseas. In addition to making general inroads in Europe, the company provided a significant upgrade to the Belgium national research network, called Belnet, by deploying its M-series routing platforms in its GigaNet network throughout Belgium.
With this deployment, Belgium's most ubiquitous network has transformed its nationwide infrastructure from a low-speed network to one that can offer gigabit speeds and that can support advanced services such as multicasting and IPv6, the next-generation Internet protocol.
On This Side
There are significant backbone developments in the United States, too. Rory Cutaia, founder and CEO of Telx, one of New York City's largest interconnect and collocation facilities, has noticed a dramatic increase in capital expenditure among telecom clients using Telx facilities in the past several months, "as if they are laying the groundwork for increasing the capacity of their networks."
This recent activity is developing quickly, in stark contrast to last year's activity, when the Telx facilities were "pretty much flat," Cutaia told TechNewsWorld.
"Just several months ago, telecom companies were buying space and power at a fairly modest pace — usually as they needed it — but now we've noticed that they are suddenly spending hundreds of thousands of dollars for expansion," he said. "In the last few months alone, some have doubled their presence and tripled the amount of power they're consuming."
"Whatever the fears in the industry over the past couple of years, these fears have begun to wane," he added. "It might not be significant if [only] one or several carriers were doing this, but we've noticed that kind of activity across the board."
Data Efficiency
In addition to increased demand for transoceanic bandwidth, new technologies are coming to market to try to offset demand with better data compression and enhanced data-transport technologies. OFS Labs, formerly the optical fiber division of Bell Labs, has developed new data amplifiers — called Raman — that are designed to improve long-haul transmission capacity in optical fiber networks.
"The amplification technique will help carriers maintain a high optical signal-to-noise ratio and low system polarization," OFS Labs spokesperson Olga Shmuklyer told TechNewsWorld.
More backbone technology will emerge from the laboratory in the coming months, including advanced modulation formats designed to package data and send it more efficiently across transoceanic backbones. These techniques are "key technologies being developed for expanding capacity of long-haul transmissions," Shmuklyer noted.
Applications like WiFi, streaming video, telephony and teleconferencing — increasingly sought by corporations recovering from the recession and hungry to expand sales — also are spurring demand for more bandwidth.
Next Generation
Last month, the Corporation for Education Network Initiatives in California (CENIC) disclosed that CalREN, California's high-performance research and education network, has established the first 10 Gbps connection to the Abilene backbone network.
In addition to providing extra bandwidth, this new connection will allow millions of researchers, faculty and students at thousands of institutions connected to CalREN to take advantage of advanced networking capabilities, such as native IPv6 — usually a technology that is added on top of the fairly ubiquitous IPv4 networks — and scalable multicasting.
"It is exactly this type of next-generation network capacity that will provide the foundation for future high-performance collaborative infrastructures," Harvey Newman, a professor of physics at Caltech, told TechNewsWorld.
Today, more than a century after the emergence of telecommunications, many developing countries still do not share in the benefits of a universally distributed basic telecom service. But by building out U.S.-based infrastructure and transoceanic backbones in this latest rush of developments and expansions, the vision of a truly global neighborhood might be closer than most realize.