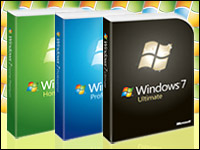 Earlier this week, Windows 7 became the highest grossing pre-order product in Amazon UK history, topping those of J.K. Rowling's book, Harry Potter and the Deathly Hallows, according to media reports. The reason for making the correlation between a much-anticipated OS and a very popular book, presumably, was to demonstrate that even before its much-hyped Thursday launch, Windows 7 was already a success.
It could turn out that the Potter factor was indeed an accurate leading indicator. However, for those who are skeptical, the question lingers: What's an effective gauge for measuring the success of Windows 7?
That's a question Microsoft's competitors might like to address. IBM and Canonical, for example, are marketing a joint open source offering as analternative to Windows 7 with the promise of more for less. IBM's Client for Smart Work bundles IBM productivity apps with Canonical's Ubuntu Linux distribution.
Also, Apple — which enlarged its slice of the computer market in part due to dissatisfaction with Windows Vista — has been aggressively marketing its Snow Leopard upgrade to OS X, framing it as a much more reasonably priced alternative to Windows 7.
Good Vibrations
If buzz and favorable advance reviews are the yardstick, then Windows 7 is already a success — but then, favorable reviews preceded Vista.
One obvious indicator will be sales, noted Simon May, author of Rough Guide to Windows 7.
"Microsoft has said it is expecting 300 million sales by 2012; IDC has projected by the end of 2010 there will be 177 million sales. If Microsoft misses either of these targets, it will definitely not be a successful launch," May told TechNewsWorld.
When considering metrics other than sales, the question becomes a little more complicated.
Consumer Adoption
How to measure success depends on whether one is looking at home use or corporate use, Jim Achuff, senior technical consultant at Interphase Systems, told TechNewsWorld.
"Home acceptance will probably be a little skewed, because all new machines purchased from here on out will have Windows 7 as a default install if not at least an option," he noted. "OEM XP is pretty much dead except for netbooks — and I don't know when Microsoft will cut that off."
Barring a major unforeseen glitch, Windows 7 will be a resounding success on the consumer front, Achuff said — that's his "gut feeling," at any rate — because consumers have little other choice.
Enterprise Adoption
The real question will be how deeply Windows 7 is able to penetrate the corporate world. There, success can really only be measured by number of installs.
"Since corporate IT is notoriously slow in adopting new operating systems," explained Achuff, "the only fair comparison would be to the rate of XP acceptance eight years ago — to compare Windows 7 to Vista won't work, because Vista was never widely installed in corporate environments."
Enterprise adoption rates will ultimately be the measure of Windows 7 success, said Ron Burns, CEO of ProtonMedia.
Still, if consumer choice is limited, the same is true for companies.
"Windows 7 essentially is meeting a pent-up demand among enterprises," Burns told TechNewsWorld. "We see the enterprise adoption of Windows 7 to be a real opportunity. … It's a common sentiment among a number of developers and software providers."
Closing the Vista Chapter
Windows 7's ultimate test of success will be whether it is able to — once and for all — throw off the taint that that Vista brought to the product line.
"It didn't take long for users to realize they didn't like Vista, because it was difficult to use," Wayne Citrin, CTO of JNBridge, told TechNewsWorld. "Most of the good reviews that preceded Vista were generated by people in evaluation labs."
Because "Vista didn't provide a good user experience," Citrin, a developer, stayed with XP in anticipation of Windows 7.
Ultimately, user experience is what counts to most people in business, Matt Kesner, CTO at Fenwick & West, told TechNewsWorld.
"I want to deliver something that is useful to my users that doesn't force them to have to relearn how to use an operating system," he said. "They just want to get on the computer and start to work, or play, without having to think about it."
Fenwick & West has been using Windows 7 beta for several months, and Kesner reported that reactions have been favorable.
"I think it is a good upgrade from XP," he said.
As it happens, he also likes Vista — but understands how it went off the rails for Microsoft, especially for average users.
"Microsoft's biggest problem is that it is trying to please so many different constituencies, and trying to provide [an operating system] that works with so many apps and pieces of software," Kesner remarked. "That makes it hard to build something that has to do so much but seem simple and easy to use."