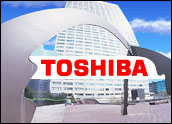 Toshiba on Monday announced it is adding a new high-capacity portable hard drive to its already well-established product roster of televisions, laptops and DVD players.
The Toshiba model 200GB is a USB 2.0 portable external hard drive that comes in capacities ranging from 100 GB to 200 GB and has the largest capacity yet in a portable, according to the company.
The 200GB lists for US$229.99.
Consumer Applications
As consumers continue to use an increasing number of multimedia applications, generating thousands of digital content files ranging from family photos to business applications, the demand for stronger backup solutions is growing, according to hold Maciek Brzeski, vice president of marketing at Toshiba.
"We have addressed a critical need for preserving digital memories for years to come with a high-capacity, easy-to-use solution that takes the mystery and worry out of data backup," Brzeski said.
The external hard drive, which is less than an inch thick, comes bundled with NTI Shadow, a backup and file monitoring software package.
The 2.5-inch 200 GB model fits in notebook carrying cases and runs off of USB bus power, meaning it doesn't require an external power brick as do most external hard drives with a desktop-class 3.5-inch drive mechanisms.
The product can store up to 57,000 digital photos, 52,000 MP3 music files, 88 DVD movies or 23 high-definition videos.
Although the new portable external hard drive is now the biggest on the block, cracking the 200 GB barrier may be just around the corner. Other hard drive makers, including industry heavyweights Seagate Technology and Western Digital, already offer similar devices with top capacities of 160 GB.
Higher Capacities
A 250 GB portable drive will be available by the end of this year, said Shawny Chen, a research analyst with Storage & Digital Audio.
"The industry is going to continue to push beyond the current capacity limits," Chen told TechNewsWorld, adding that from a design standpoint Toshiba has some distance to travel before capturing consumers' attention as Seagate and Western Digital have.
"It's going to be a big learning curve," said Chen. "Design is very important to consumers and Toshiba's is pretty conservative right now."