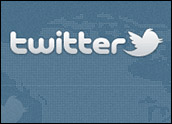 Twitter has updated its site and dramatically streamlined its user interface with an eye to attracting new users — not to mention brands.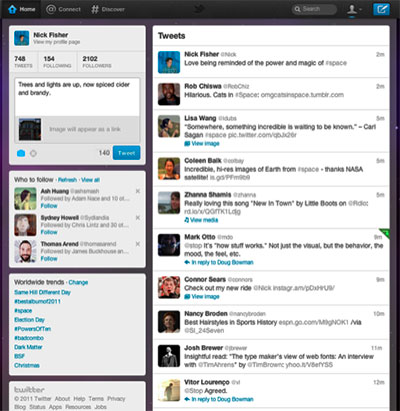 Twitter's new Tweet button lets you share what's happening right now. No matter where you are within Twitter, you can upload photos, add your location, and link to videos, news stories and more.
The new look is based on tabbed sections where users can spruce up their profiles and better organize their content. Businesses get the same privilege, with the rollout of pages that let them create "an even more compelling destination on Twitter," the company said in a blog post.
The pages for brands give companies more control over the messages they display, including photo and video content. Several companies have already started using the new brand pages, including Intel, Chevrolet, Coca-Cola, Dell, HP and JetBlue.
The new design is being rolled out both on Twitter.com and mobile devices, and TweetDeck has been updated for compatibility.
User Controls
The Home section is where users can access their personal collection of tweets, news, commentary and so on, based on the sources they've chosen.
The Connect section is where users can see who has followed or mentioned them, or responded to one of their tweets.
The Discover section lets users tap into a stream of information based on their current location, the activities of users or brands they're following, and relevant news. It appears to be self-learning. "As you use Twitter more, Discover gets even better at serving up more content just for you," Twitter noted.
The Profile section is redesigned with an eye to better promoting conversations among Twitter users. They can tweet directly to one other; view each other's lists, favorites and followers; and keep up with direct message conversations.
A new Tweet button lets users instantly broadcast their messages to the world, no matter where they happen to be on the site.
Twitter did not respond to our request for further details.
Too Busy, Too Much
As with any change to a popular platform, critics abound.
"I need my glasses to read it now," Susan M. Tellem, partner with Tellem Grody PR, told TechNewsWorld.
"It is such a busy view that I had to adjust my monitor settings. Also, I am not sure why we need the current events or stories, as we have enough sources for that elsewhere — and wasn't one of the ideas of tweeting to be able to discover news and send it out to your followers?"
Businesses Applaud
The changes will likely be very welcome to businesses, Kenneth C. Wisnefski, founder and CEO of WebiMax, told TechNewsWorld.
The update "presents new opportunities for businesses seeking to broaden consumer awareness regarding products, services and company brands," he said. "This is noteworthy, as it gives marketers and advertisers deep integration that was not available prior. "
The customization options for companies include the ability to tweak headers, and enhance taglines and fonts, noted Wisnefski.
The changes will help Twitter bridge a widening gap between it and Facebook in terms of brand management, he said.
"Twitter is a much more simplified social media platform than competitors Facebook and LinkedIn," noted Wisnefski, "and these changes preserve the simple 140-character update ability. I expect this to be a big hit for Twitter, as many will adopt the enhancements."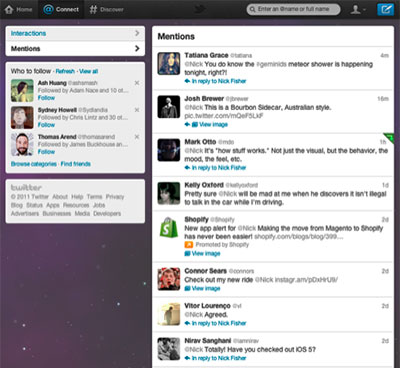 Twitter's new Connect section is the place to see who has followed or mentioned you, retweeted or favorited one of your tweets. It lets you keep the conversation flowing.
Not Overbearing
Some brands may even come to prefer Twitter's lightweight presence, compared to the always-present Facebook brand, Greg Sterling, principal at Sterling Market Intelligence, told TechNewsWorld. "No brand will walk away from Facebook now, but what has always struck me about the site is that brands have to compete with the Facebook logo and its own branding."
This dual-brand competition is one reason companies can't seem to decide whether to abandon the traditional website model and move entirely to Facebook or hedge their bets among the various platforms.
"There is always that underlying competitive tension on Facebook that Twitter doesn't have," Sterling observed. "I think brands will like that."