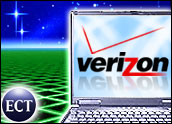 Verizon Wireless this week pushed out its first deployments of a speedier mobile broadband service that increases Internet upload speeds by up to six times faster than the company's existing broadband network.
The New York-based telecom is upgrading its third-generation wireless network using a CDMA (Code Division Multiple Access)-based technology called "Evolution Data Optimized Revision A" (EV-DO Rev A) in six markets: Boston, Richmond, Va., Chicago, Salt Lake City and parts of Florida and Indiana.
Verizon Wireless customers in those areas will now have data uplink speeds significantly faster than the company's award-winning national EV-DO network, according to the company.
Multiplying Speeds
The primary advantage of bulking up to EV-DO Rev A is boosting upload speeds, said Verizon, with average speeds from 450 kbps to 800 kbps for downloads, and 300 kbps to 400 kbps per second for uploads.
The new capabilities will enable customers to download a 1 MB e-mail attachment in less than 15 seconds and upload the same file in 25 seconds.
Verizon also expects customers to experience better interactions with Web-based applications due to improved latency.
Not Quite Ready to Compete
However, wireless broadband isn't close to catching up with the more-established broadband networks.
"They still need to push those numbers if they are going to provide a reasonable broadband experience in the field," Max Engel, a satellite and broadband analyst with Frost & Sullivan, told TechNewsWorld.
EV-DO is one of two main families of 3G technology; the other is Wideband CDMA, or WCDMA, which has been offered primarily by carriers with GSM (Global System for Mobile Communications) cell phone networks.
In order to take advantage of the new speed, which is now part of the carrier's existing broadband access service, subscribers will need compatible devices, which are being sold on Verizon's Web site.
Big Curve
EV-DO is still in the steep part of the technology growth curve, Engel said, and can't be considered serious competition to other broadband channels — at least not yet.
"It's a matter of what you are doing with it," he explained. "If you are talking about sending video, you're going to start bumping up against limitations."
The Competition
Although Verizon is the biggest U.S. carrier with EV-DO, rival Sprint Nextel is leading the race when it comes to upgrading to new, faster versions.
Sprint began rolling out the new EV-DO technology in October and most recently added South Florida, Portland, Ore. and Puerto Rico to its coverage area. The company claims it can reach 95 million people in 24 major markets with Revision A.