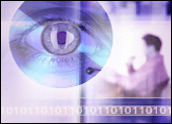 Is it a digital music player? A smartphone? A new PDA? For some time, Microsoft has been seeding expectations of a new device, code-named Project Origami, that would combine some or all of the functionality of these popular products.
Now, the emergence of a video clip purporting to shed light on this mystery has prompted a new round of speculation.
The video, originally found on marketing agency Digital Kitchen's Web site, has been circulating among bloggers for the past few days. It shows a tablet-style device that appears to offer music and entertainment functionality as well as other computing features.
The video no longer appears on the Digital Kitchen site, but it can still be found elsewhere on the Internet. Microsoft has told reporters that the clip is a year old and is not representative of the product's latest features.
A Web site maintained by Microsoft tells viewers more information will be released on March 2.
Accidental on Purpose?
The mystery surrounding the video clip and Microsoft's forthcoming announcement, not surprisingly, have driven market observers into a frenzy of speculation. It is unlikely that the timing of its emergence is accidental.
On Tuesday, Apple is expected to make some revelations; reporters have been issued invitations to attend an event at its Cupertino, Calif., headquarters to see some new products.
The coincidence with Apple's announcement might suggest why some of the market speculation has centered around the possibility that Microsoft is getting set to roll out a sexy entertainment device.
To be sure, there is a case to be made for this: It is clear that the company is hoping to provide more competition to Apple's iPod product line with the latest version of its Windows Media Player, for example.
Ultra Mobile
Microsoft may be preparing to launch an ultra-mobile computing device that would allow end users to have a richer experience than they would on a smartphone or PDA, according to Danielle Levitas, senior analyst at IDC.
"Will end users be able to use the device for music or games? Yes, just like you can use desktops or laptops for these functions — but this will be a productivity tool as well," she predicted.
"I am not convinced this will be an entertainment-only, or even primarily, device," she told TechNewsWorld.
Market Demand
The first wave of buyers is likely to consist of gadget enthusiasts, Levitas said. Beyond the initial interest from that predictable cadre of buyers, nothing is certain. Microsoft could stumble if it doesn't position or price the product correctly, she cautioned.
"That will be the biggest challenge. Consumers might wonder why they should buy a device when, for a couple of hundred dollars more, they could get a full-fledged PC," Levitas said.
The optimal price point for this sort of device, she said, is between US$300 and $800. Another consideration: the monthly wireless connectivity charge can be as much as $80 per month.
"One market that this product might be well suited [for is] verticals, where employers will pay for it," she suggested.
This is all speculation, Levitas hastens to add. "We don't know what the user interface will look like. We don't know what functionality it will offer. There are a lot of unknowns that make it difficult to say how successful a product may or may not be."