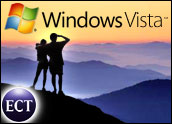 Microsoft this week released the latest beta version of its Vista operating system, allowing large enterprises to test drive all of its new features and provide technical feedback prior to deployment. The Community Technology Preview is the fourth in a series of early Windows Vista builds being provided to companies in the Windows Vista Technical Beta Program, and is the first "feature-complete" release.
As the Redmond, Wash. firm continues to push its operating system for larger enterprises, this version emphasizes the need for security and cost savings. Most XP users run in administrative mode, which poses a huge security risk to companies, according to Simon Yates, principal analyst at Forrester Research.
"In administrative mode, users can download any software, connect any kind of device to a network, and change configurations and settings, contributing to higher support costs to fix things the user broke," he told TechNewsWorld. "For companies that are deploying thousands of machines, having all those users scales up that risk."
With this version, Microsoft has created the ability to run most users at a standard level with certain basic privileges like connecting to printers. If they need additional privileges, an administrator can grant them on a temporary basis.
There are multiple benefits to this kind of system, says Joe Wilcox, senior analyst at JupiterResearch. "Ultimately, Microsoft is trying to give IT administrators more control over who has access to what. Companies want to give different degrees of access to different employees," he told TechNewsWorld, "but a benefit of that approach is deterring stealth installation."
Making Things Easy
Another important issue facing large enterprises is deployment of operating systems to potentially thousands of "unique" desktops. Currently, companies must build their own images tied specifically to the individual hardware of each user, which could vary based on what is on each computer. This becomes further complicated when dealing with different languages, Yates explains.
Vista creates an image management tool that easily allows companies to make deployments based on who the users are, where they are located, and what applications they are running. This improves security and manageability in shared-use environments such as libraries and schools, Microsoft notes.
Microsoft also is homing in on cost. Manual deployments can cost roughly US$1,000 per PC, but using the Windows Vista tools combined with a modern IT infrastructure potentially could reduce the cost-per-desktop deployment to below $100, according to the company.
That estimate is drawing skepticism, however. "The $100 number depends very much on the business processes a company uses to deploy. Maybe if it was completely automated, they could get down to that point," Yates said.
Timing Is Everything
Regardless of the price, giving IT professionals the chance to test drive Vista is a smart move for Microsoft, especially as enterprises struggle with longer-term migration issues, Yates contends. Seventy-five percent of large enterprises have at least half of their users on XP, recent research by Forrester reveals.
"They have to flush out other systems first and get a stronger XP environment, then have the incentive to [migrate] all over again," Yates said. "The beta program gives them a chance to test the applications portfolio and give feedback to Microsoft about what they need to improve."
Because a growing number of companies are accelerating their XP upgrade cycle, Microsoft faces a large marketing challenge in persuading them to go through the process again, Wilcox agrees. "Many businesses that adopted Windows 2000 really visualized it as good enough," he said. "Microsoft's challenge is convincing them that Vista is better, more secure and easier to manage."