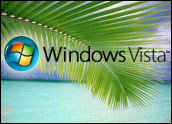 Personal computer buyers last week rapidly snapped up machines loaded with Microsoft's new Vista operating system, buying nearly 70 percent more units during the week than they did during the same week in 2006, according to a report by Current Analysis.
The figures show that 67 percent more PCs were sold last week than during the comparable week in 2006. Current Analysis additionally reported that technology retailers sold a whopping 173 percent more computers during the week ending Feb. 3 than they sold during the prior week.
However, as Current Analysis pointed out, that figure probably reflects the fact that retailers reduced their stockpiles of Windows XP-loaded desktops and notebooks in the weeks preceding the much-anticipated Vista rollout.
Creating Demand
"This sales spike is a welcome sight for retailers, given that the preceding five weeks had seen sagging sales for PCs," stated a Current Analysis statement. "This slowing was primarily due to a limited amount of inventory, as retailers and OEMs (original equipment manufacturers) chose to keep their supply of non-Vista products limited in preparation for the Vista transition."
Units operated by Vista first became available Jan. 30.
"I think the sequential growth that we saw shouldn't have been any surprise," John Donovan, vice president of TrendFocus, told TechNewsWorld. "The retailers in particular were holding back, trying get rid of as much inventory as they could of the non-Vista-equipped computers. While that wasn't unexpected, the bigger question is whether this is a sustainable jump. I think the answer is yes."
Retail consumers weren't being stingy when it came to choosing which version of the new OS — the basic or the premium — that they wanted, according to Current Analysis.
Buyers Want Bells and Whistles
"The Vista introduction was a hit not only in terms of overall volume, but also in terms of retail consumers' preference for the higher-end version of Vista — Vista Home Premium," the report said. "Vista Home Premium accounted for 70 percent of PC unit sales in the U.S. retail market during the first full week of Vista's availability, while Vista Home Basic accounted for 22 percent."
The price difference between the average notebook equipped with Vista Home Basic and one decked out with Vista Home Premium is "considerable," the research firm noted. The average laptop running the basic version sold for US$616 while the higher-end units retailed for $863, the report added.
The sales numbers fly in the face of some media accounts at the time of the Vista release, which said the new OS received a lukewarm reception in the marketplace.
Years of Advance Notice
"A lot of the news made around Vista was certainly ho-hum," Brian Babineau, an analyst at Enterprise Strategy Group, told TechNewsWorld. "I believe that's because everybody knew it was coming and knew what was in it. Because Microsoft was so transparent, the release was not necessarily exciting. Everybody knew it was going to come and it came and it was like, 'We've been talking about this for a couple years already.'"
The sales didn't surprise Babineau. "It's happened every time they released a new version of Windows," he explained. Many people who needed a new PC, "were sitting on their wallets waiting to go out and make the purchase" when Vista was available, Babineau suspected.
Hewlett-Packard was the "most aggressive" manufacturer of the Windows Vista introduction, according to Current Analysis, "accounting for a 54 percent share of Vista Home Premium sales and a 53 percent share of Vista Home Basic unit sales."