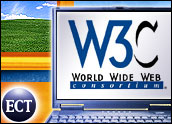 Two new standards approved this week by the World Wide Web Consortium (W3C) are poised to provide consumers with content more appropriate for their needs, enabling computers to locate relevant information on the Internet more quickly than was ever possible before.
The consortium disclosed Tuesday the new standards — the Web ontology language (OWL) and the resource definition framework (RDF) — as part of its overall effort to make the Net more friendly to users.
The concept behind the push toward these new standards is called the Semantic Web. It is a vision that is quite straightforward: Make the facts and data available online more meaningful by contextualizing information when it is collected and formatted.
The standards are based on a clever combination of statistical mathematics, heuristics, artificial intelligence and new computer languages.
Informational Purposes
Bill Cutshall, vice president of interactive development at Austin, Texas-based marketing agency Tocquigny, said in an interview with TechNewsWorld that new developments in Web technology are important because the Net is primarily used for informational purposes. In recent years, marketers have tried to take over the Web with purely commercial messages. Consumers responded largely by ignoring the content, he said.
"With the economy the way it is, clients are now big on measurement and tracking," said Cutshall.
By providing standardized, searchable metadata through implementing the new standards, the Semantic Web will allow consumers to use data in a more efficient, utilitarian fashion.
Although the Semantic Web effort began in the university setting, major comporations, including Sun Microsystems, Adobe, Hewlett-Packard, Nokia and IBM, have embraced it. The U.S. government is involved as well through the Pentagon's Defense Advanced Research Projects Agency (DARPA).
Sun and Adobe presently are using RDF for multilanguage content-management projects.
Categorization Rules and Rights Management
The technology provides users with the characteristics of the pages they are searching, improving the productivity of users who search through large volumes of HTML content. Adobe's new Adobe XMP, or Extensible Metadata Platform, is built on RDF.
The OWL technology standard, meanwhile, is being used by developers to create domain-specific vocabularies for online use. It is targeted toward applications that process the content of information, rather than simply collecting all the possibly relevant documents and presenting them to the end user.
OWL is being used to develop categorization rules, enhancing search functions online for portals and search engines. The standards are also helpful for rights management of specific content owned by media companies and producers.
Microsoft, Netscape Started It
The standards actually have been brewing for seven years now, since Netscape and Microsoft collaborated on an array of technologies that resulted in the first versions of RDF. The search problems addressed by the new technologies are inherent in the Internet — a technology that is already more than 30 years old but that has been commercialized only within the last decade.
Barak Pridor, CEO of ClearForest, a developer of data-management software based in New York City, told TechNewsWorld that the new search standards are needed because "information is only meaningful when it is in context."
Customers, such as the Federal Bureau of Investigation, are using the software tools based on new search protocols to search through old file systems, computer hard disks and intranets to locate intelligence information.
"If there are 10 million intelligence reports, and you tag all the people in there, you can answer some interesting questions," said Pridor. "Who are the people this person is familiar with? In addition to relationships, you can add organizations and geographical information. What are all the possible links between Zacharias Moussaoui [terrorist groups]?"
Commercial Application Today
This kind of technology has commercial applications today. For example, companies like Intelliseek are trying to provide users with business intelligence over the Web, including mining corporate Web sites for competitive intelligence information, such as lists of customer names, said Sue MacDonald, a spokesperson for Intelliseek.
Some serious computer scientists, though cautious about the promise of the Semantic Web, are ultimately optimistic that it will be everything developers are hoping for — an accessible online system for the knowledge humanity has created in science, business and the arts.