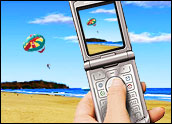 An industry forecast released this month by Wellesley, Mass.-based Mobile Ecosystem, a wireless industry consultancy, indicates that wireless carriers in 2006 will be launching a new "wave" of multimedia and entertainment applications on new, 3G networks.
A copy of the forecast by analyst and founder Mark Lowenstein, formerly of the Yankee Group, was provided to TechNewsWorld. From the tone of the report, the wave may be something of a technology tsunami.
"As a broad theme, I am officially proclaiming 2006 to be 'The Experiment Year,'" said Lowenstein. "Carriers will be launching and testing a wave of multimedia and new entertainment-centric applications as 3G networks become more broadly available. We will learn a lot about what kinds of services, at what prices, are attractive to the consumer."
Marketing of technology is going to be more crucial than ever in this new environment, he said. That's because 75 percent of new customers will come from other mobile companies. In industry parlance, these will be called "switchers." Smarter segmentation of customer niches will be one of the key marketing trends that help bring that about, Lowenstein said.
Mobile Search
Another key to marketing mobile content will be making searching for it easier. "Google will be a player," said Lowenstein. "There's a huge amount of content out there and we've got to find more effective ways to discover it."
Lowenstein said he is very excited about the prospects for a "mobile-centric" search technology, rather than just an expanded Internet search capability, emerging.
In addition to search for mobile phones emerging, there will be more work on user interfaces. "There's a broad recognition that the navigation and presentation model has not kept up with the new capabilities of wireless networks," said Lowenstein. "Look for some breakout ideas in context, personalization, and interface navigation on the device."
The trends will not just impact business usage of mobile phones. They will influence consumer usage too, he said.
"The battle for the home has two fronts," said Lowenstein. "In voice, wireless coverage in the majority of homes remains inadequate. So we will either start leveraging the broadband network, or we will finally see relatively small, inexpensive home base station products that boost RF coverage."
But in data, he said, the battle will increasingly revolve around how successfully wireless integrates with the broader digital life framework.
Back-End Technology
Technology will also evolve quickly on the back-end — for the transmission of voice and data, Lowenstein said. "Much more boring than mobile music and Motorola RAZRs, but becoming more important given the need to reduce OPEX costs, provide redundancy/diversity, and handle the growing needs of data traffic," said Lowenstein.
Some companies are racing, however, to bring out their dazzling new wireless technologies before the new year begins.
Seoul, South Korea-based Samsung Electronics this week announced a new technology to enhance the image quality of mid and small sized LCD panels for mobile phones. Developed by Samsung Electronics and Samsung's Advanced Institute of Technology, this new mobile image enhancement (MIE) technology resolves the dark, unclear images on mid and small sized LCDs for mobile phones and handheld devices. With this MIE technology, viewers can expect brighter and clearer onscreen images — addressing one of the areas that Lowenstein predicted, improved user interfaces.
The technology has a "built-in algorithm" for smooth video image conversion. By greatly improving the image quality in small sized screens, this technology is expected to raise the quality of video content as well as digital multimedia broadcasts received via handheld terminals, the company said.
Samsung, with this algorithm, has been able to optimize the gray scale of LCD pixels without changing the color, the company said. Application of this technology will increase the luminance of a given LCD panel and backlight by at least 30 percent, the company said.
This MIE technology is built into Samsung's display driver IC (DDI), which is used in LCDs to reproduce color, as an optimizing algorithm. Therefore, it does not require a separate dedicated chip or additional space. Samsung expects to ship samples of this MIE-enabled DDI in December, the company said.