Some 1,000 people gathered in New York City to see the long-ballyhooed Windows 8 unveiling on Thursday, and countless others watched a live stream from the Microsoft website.
"Windows 8 shatters perceptions of what a PC really is," Microsoft CEO Steve Ballmer told the audience. "We've truly reimagined Windows."
The New York event was the culmination of months of speculation and discussion about Windows 8 and its potentially game-changing tablet, the Surface RT. Windows 8 has been beta tested, previewed, pre-installed on millions of computers, and heavily promoted by Microsoft executives.
The company has already written 650 pages of blogs posts about the making of Windows 8 alone, according to Steven Sinofsky, president of the Windows and Windows Live Division at Microsoft.
In addition to Windows 8, Sinofsky and Ballmer devoted much of the presentation to the Windows Store for apps and Windows 8 PCs. Windows RT also shared the spotlight. A version of Windows 8 geared for tablets, it will come pre-installed on a number of new devices, including Microsoft's new Surface.
Microsoft partnered with Asus, Dell, Lenovo and Samsung, among other OEMs, on Windows RT, Sinofsky said.
Windows RT also works with peripherals including printers, he added — perhaps a dig on competing products that do not.
The Big Kahuna
Windows 8 was clearly the star of the event, which was followed by a separate sideshow focused on the Surface.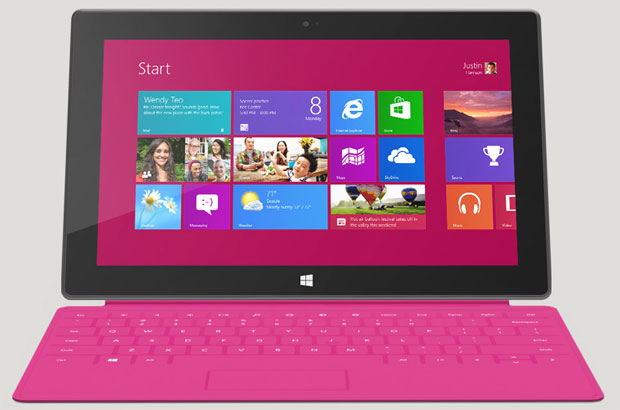 Microsoft's Surface RT
While it is not likely that companies and consumers will quickly migrate to Windows 8, the new OS does represent Microsoft's determination to reconfigure its product line for a mobile world. Windows 8 is designed specifically to optimize touchscreen capabilities in tablets. It's also designed to take into account consumers' shift to the cloud.
Windows 8 connects all of a consumer's content in the cloud, Ballmer said. "The experience is really magical."
Windows 8 supports ARM, AMD and Intel chips, making Windows 8 PCs "the lightest and fastest" ever created, Ballmer claimed.
After the Kickoff
Now that Microsoft has officially unveiled Windows 8, it has to sell it, Laura DiDio, principal of ITIC, told the E-Commerce Times.
"I think it has created a great product with Windows 8, but now it needs to make the case to consumers and businesses. It needs to create buzz around the product and what it can do," she said.
It's a strange position for Microsoft to be in, DiDio observed. Usually it presents its OS to the market, and sooner or later, the market adopts it.
"Really, all Microsoft had to do was show up before," she said.
That will likely be the case with Windows 8 as well, but given the way the market is trending — and Microsoft's difficulties in staying abreast of the trends — sooner would be better than later.
Most Ambitious
Marketing the new OS should be an easy task for Microsoft, because Windows 8 is the most ambitious product it has ever created, Charles King, principal with Pund-IT, told the E-Commerce Times.
"It is the first time that the company has created an OS experience with a single, unified experience for everything — from smartphones to PCs and everything in between. They are trying to set themselves apart from Apple, of course, which has one user interface for laptops and desktops, and another for smartphones," he noted.
However, "people have become accustomed to working with multiple OSes and UIs, and the vast majority of users can deal with devices that are radically different from one another," King pointed out.
Microsoft may have delivered on this concept about five to seven years too late.