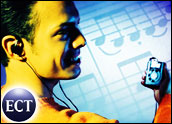 XM Radio and Napster today announced a service that links listening to music to purchasing it, which one analyst said should be welcomed by consumers.
"In the new world of digital music, portability is the holy grail and anything that you can do in service of portability will be appreciated by consumers," Isaac Josephson, senior account manager, NPD Group, told TechNewsWorld.
Easy Information
It also may resolve at least one problem that consumers have lamented since the advent of pop radio.
"Consumers have always said that the lack of back announcing on radio is an issue," he said. "This seems to address that."
Back announcing is the practice of telling listeners the name of the song and the artist they just heard. The service will allow subscribers to XM satellite radio to not only see the name of the song and artist, but go right to a catalog of that musician's work.
The companies said 'XM + Napster' will give music lovers a single access point into listening, managing and buying tunes.
"It's a one-stop shop and a cross-promotion opportunity," Josephson said. "The XM-Napster deal has a lot of potential. It does make good horse sense, I imagine we will see other deals like it."
The Hurdles
But he pointed out that in order to use the service, a consumer must subscribe to XM radio, buy a special MP3 player and be willing to purchase digital music. XM said it has 4.4 million subscribers, a very small percentage of the radio audience. XM radio costs US$12.95 a month plus the price of a receiver.
The success of the service will also be determined by its execution.
"It sounds like a compelling offer, but the user experience has to be seamless," Josephson said.
The XM/MP3 player needed for the service allows consumers to listen to XM channels, store songs and mark songs they think they would like to purchase online. Once the player is connected to a PC, the service will find the songs that have been marked on Napster. The listener can buy any available songs and download them to the player.
XM subscribers can also manage their music collection and create playlists. Listeners of XM Radio Online will be able to easily buy music from Napster that they hear on the radio and transfer it to an MP3 player. The companies said only that there would be a "variety" of compatible players.