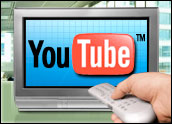 YouTube began a limited two-day test of live streamed video on Monday, partially fulfilling years of rumors that the Google-owned service would enter the live market currently dominated by players such as Livestream, UStream and Justin.tv.
The experiement began on Monday with shows from Rocketboom, Howcast, Indy Mogul, Barely Political and JR Sport Brief.
It's unclear how the early testing is going. Google's media relations team didn't respond to a request for information about the test by deadline for this article.
Live user comments enabled by Google on the streams indicated mixed results.
"Little choppy but not bad," one viewer posted during an interview with skateboard pro and entrepreneur Tony Hawk.
"Lags as hell," posted another, shortly before a nearly one-minute disruption in the stream. Fewer than a dozen people were watching the afternoon stream, according to viewing numbers that seemed to appear and disappear frequently.
Such issues were not unexpected. Google itself warned in its Sunday blog post announcing the trial that it would feature some bumps.
What's Cooking?
It's unclear how live streaming might fit into Google's plans. The site is not yet profitable, as a company executive recently noted, and live-streaming video is often seen as more difficult to monetize than YouTube's staples.
"We don't know what the business model is for YouTube, let alone live streaming," Bruce Leichtman, president and principal analyst at Leichtman Research Group, told TechNewsWorld.
However, the space is growing.
Over the last year, the amount of time spent by American viewers watching live streaming video on major sites such as UStream, Livestream and Stickam has grown by 648 percent to nearly 1.4 billion minutes, wrote ComScore analyst Andres Palmiter just last week.
In comparison, the amount of time watching YouTube has grown by 68 percent over the same time period, noted ComScore.
Live streaming video can also help deliver key audiences to advertisers, Palmiter wrote, particularly the male 18-34 demographic — which he said makes up 30 percent of the total live viewing audience on major live steaming sites.
No Big Deal?
Still, neither the industry nor viewers should get too carried away about YouTube's possible entry into live streaming, said Dan Rayburn, executive vice president of Streamingmedia.com and a principal analyst at Frost & Sullivan.
"It's not that big a deal," he told TechNewsWorld. "They're not doing anything that's new or huge."
Many questions remain about how YouTube would handle such a service. It's unclear how well YouTube streaming would handle latency issues, what functionality it would have, how it scales or what encoding it supports, Rayburn said.
Google also likely still needs answers to many operational questions, which is why it's performing the tests, he said.
There's no guarantee YouTube will open a broader service once the test is complete — or if it does, that it will happen anytime soon, he said.
If YouTube does launch a service, it will almost certainly be limited to a small group of content partners, for whom YouTube will simply be another distribution channel. It's unlikely YouTube will sell live streaming as a service, as companies such as Livestream and Ustream do.
"It's not difficult to put a live stream on the Internet, and it's not that expensive," said Rayburn. "CNN is not going to pull their live stream off cnn.com and put it on YouTube."