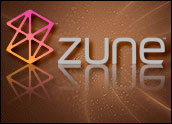 Not giving up on its foray into portable media players despite the iPod's dominance, Microsoft is expanding and improving its stable of Zune devices and pairing their release with a new, music-oriented social networking site.
Chairman Bill Gates and Corporate Vice President J. Allard announced three new Zune models, including two based on flash memory. The most expensive of the trio, a US$250, black 80 GB model with a 3.2-inch screen, will store data on a hard drive, as does the existing 30 GB unit. New $200 8 GB and $140 4 GB versions will use shock-immune flash memory and they'll be available in pink, green, black and red.
The new Zunes come with a four-way, touch sensitive navigation pad, which Microsoft is calling the "Zune Pad," that allows users to quickly scroll through files. The Zune Pad enables people to flick their thumbs over the pad and skim through lists of songs or albums or fast-forward through slide shows or videos, the company said.
The pad also allows Zune owners to pause, advance or adjust the volume without looking at the device by using "physical cues" on the pad's four sides.
Extended Wireless Sharing
A wireless sync feature allows the players to automatically synchronize with their owners' wireless home computer networks whenever the Zune is plugged into its AC adapter, a dock or speaker dock accessory, said Microsoft.
That means the Zune can automatically import music, pictures and videos that were stored on home computers. They also come with built-in FM tuners.
The Zunes now feature extended wireless sharing, a feature that allows Zune owners to share some songs, albums, playlists, pictures and audio podcasts from device to device. Gone are the time restrictions on digital rights management (DRM) protected files, although there is a three-play limit, and people are now free to "pass along songs to other friends who have a Zune," said Microsoft.
New software automatically imports broadcast content recorded on Windows Media Center for Windows Vista Home Premium or Ultimate, according to the company.
Microsoft said people owning first-generation Zunes will be able to enjoy the new software features via a forthcoming, free software upgrade.
Zune Socialization
Hoping to leverage the social networking phenomenon, Microsoft is launching a beta online community called "Zune Social." The Web site is designed to be a place where people can "share their music tastes, knowledge and experiences," said the company.
Additionally, users can create free "Zune Cards" that show the most recently played songs on a user's Zune or Zune software on their home computer and highlights the person's favorites. Others logging into Zune Social can play samples of the songs found on each other's Zune Cards and they can link to Zune Marketplace to buy or download the music.
The Zune Marketplace and software have been re-designed as well to have a "new look and feel," said Microsoft. The site will now offer more than 1 million songs free of DRM code. For about $15 monthly, people can get a "Zune Pass" that allows them to download as much music as they desire.
"By tapping into customers' passion for music with Zune Social, we're starting to change the game," said Allard in a statement. "This lets us start building a new, more valuable kind of relationship with consumers that, combined with other Zune innovations, will start to drive the entire music industry forward."
Calling Madison Avenue
JupiterResearch analyst Michael Gartenberg wonders if Redmond will be able to adequately market the improved devices.
"It's very nice evolutionary addition," Gartenberg told TechNewsWorld. "Their challenge is going to be … in terms of marketing and messaging, getting the word out about the device, the things it does differently and better than the iPod."
Gartenberg said Microsoft's marketing effort for the first Zunes was "a little misguided," particularly its attempt to portray iPods as the outdated "Model Ts" of the portable media player world. "The market didn't really buy that," he said.
The new Zunes' ability to synch with Media Center and download movies are impressive, Gartenberg said. He also likes the fact that their backs are matted, instead of a slippery, glossy surface, and that the screens are glass instead of plastic. Additionally, Gartenberg found the "whole user experience" to be enjoyable.
"These are all nice features but they are not necessarily, in and of themselves, going to turn the tide for Microsoft," said the analyst. "That's going to be one of the key challenges here: Finding a way to be the credible alternative in a market that isn't necessarily looking for alternatives."