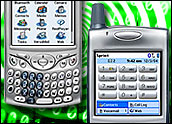 Zumobi, a new mobile widget platform and zooming interface based on Microsoft technology, has launched in beta mode after more than a year of development.
The trial version of the service is available for phones running Windows Mobile 5 and 6. In the second quarter of 2008, Zumobi is planning to offer compatibility with BlackBerry and selected Java 2 Platform, Micro Edition (J2ME) devices. Zumobi only works on phones with activated data plans, and the company stressed that "unlimited data plans are strongly recommended."
In addition to releasing the platform for beta testing, Seattle-based Zumobi also unveiled a beta version of Zumobi SDK, its software development kit that allows developers to create and deploy Zumobi "tiles," or widgets. These will be added to the Zumobi Gallery in the spring.
Zooming Tiles
Aiming to simplify the often tedious task of accessing mobile Web content, Zumobi eschews the traditional mobile Web browser. Instead, phones equipped with the software display up to 16 Zumobi tiles that enlarge when clicked.
When the device user clicks on a tile, the content is loaded quickly because it is constantly being updated. The tiles can be easily changed by users and shared with others. The interface is designed to automatically adjust to different devices, including those using touch screens.
Zumobi's initial batch of tiles are from Amazon.com, MTV Networks, the Associated Press, AccuWeather.com, Traffic.com, FlightStats.com and OTOlabs, which developed tiles for Vail Resorts and Fox Television's "Family Guy."
Zumobi can now be downloaded free from the company's Web site.
The software and underlying service will be advertising-supported and remain free to the user. More than 75 tiles will be available.
Wireless Web 2.0
The ability of the platform to stay continually updated makes it ideal for use by Navteq subsidiary Traffic.com, said Barry Glick, Navteq's vice president of consumer markets.
He praised the way Zumobi combined an intuitive interface with Traffic.com's nationwide real-time traffic content. "When users download Zumobi to their phones, they'll instantly benefit from the graphical, dynamic interaction with our mobile traffic solutions by making informed decisions about the best time to leave and the fastest way to get there."
Similarly, "weather is the perfect match for mobile phone users — immediate, personal and location-specific," said Jim Candor, AccuWeather's senior vice president of new media.
Happy Advertisers
Zumobi enters a crowded field of companies hoping to create the next big thing in mobile interface technology, noted Yankee Group wireless analyst John Jackson.
"The technology is highly innovative, though not unique as there are any number of startups focused in the broad U/I, on-device portal, widget, applications framework layer space," Jackson told TechNewsWorld. "But Zumobi's proposition should find favor with brands seeking low-cost, high quality, rapid time to market access to the mobile space for their properties."
The key to Zumobi's success is likely to be keeping those advertisers happy, Jackson said. "What's good for the brands is good for the ecosystem, including device vendors and operators."
Widget Wonderland
The platform is still a bit "rough around the edges," but it makes getting mobile content fun and easy, said JupiterResearch wireless analyst Neil Strother, who has Zumobi installed on a phone.
"What I do like more than anything is the concept of tiles and/or widgets," Strother told TechNewsWorld. "What they are onto here is a sort of an organized widget universe and that has some power on the mobile phone. "They tend to be fairly small yet powerful little applications that the user can click on."
The use of widgets as a form of mobile brand advertising is palatable, he said. "Presumably, if it's content or an application — like a game or something — there are opportunities for advertising around that. It's not like I seek more advertisements, but if I seek content with a widget like that, I'm getting what I want and presumably that information could have an ad tied to it, or a sponsorship, and I probably won't mind."