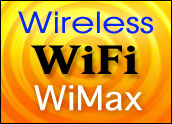 The Institute of Electrical and Electronics Engineers on Thursday confirmed the draft specification for the next-generation 802.11n WiFi standard. The decision could help push 600-Mbps products into the home as early as the first quarter of this year.
The confirmation ends months of debate over the standard as 40 of the 42 voting companies (with two abstentions) agreed unanimously to accept the Enhanced Wireless Consortium (EWC) specification.
"We enthusiastically support [the] approval of the 802.11n draft," said Craig Barratt, president and chief executive officer of Atheros Communications.
Barratt said Atheros set out with the EWC last October to break the 802.11n stalemate and accelerate a draft that defines significantly higher wireless LAN performance.
Tapping Into Home Networking
The proposed IEEE 802.11n WiFi standard will enable high-performance, next-generation wireless local area networking (WLAN) products. The draft supports speeds of up to 600 Mbps — a significant leap over today's WiFi networks — and will enable wireless systems to deliver greater range andthe ability to support advanced multimedia applications.
"This is significant because people have been waiting for 802.11n for quite some time," Jupiter Research analyst Michael Gartenberg told TechNewsWorld. "There are limitations in the existing standard that create problems for vendors who are trying to build network solutions in the home to handle things like video or music."
Rushing to Market
Chipmakers are already announcing products. Broadcom on Thursday announced the availability of its new Intensi-fi family of wireless LAN chipsets in compliance with the 802.11 draft specification. Marvell announced its own chipset would be available during the first quarter of 2006.
Barratt said he is confident that Atheros customers can manufacture products with "unprecedented performance" based on its technologies that conform to this new draft.
"Now that we have the technical foundation for the 802.11n standard, the WiFi market will begin to experience renewed growth as vendors deliver next- generation wireless devices," said Philip Solis, Senior Analyst at ABI Research.
Solis expects suppliers like Broadcom to capitalize on this opportunity by introducing advanced solutions that promise interoperability and upgradability when the standard is completed, just as it did with its draft 802.11g solutions.
A Few More Hurdles
Atheros, Broadcom and Intel led support for the new standard. The draft will now proceed through the IEEE ratification process, which includes letter balloting, comment resolution, sponsor balloting and final ratification.
In the past, full approval of similar specifications have typically taken about a year, but the progress is unique to each standard and its associated participants.
Like anything else, Gartenberg said there is always a chance the 802.11n draft would not be ratified. However, he added, there are companies who are really determined to get these products to market and others that are interested in building solutions on top of these products.
"We are seeing a lot of effort going forward to drive consumer usage of network technologies beyond utilitarian functions like sharing Internet connections to entertainment functions," Gartenberg said. "They are trying to get them to move content around the home in different ways. This confirmation is very good news for the industry. Now we will have to wait and see what the next steps are."