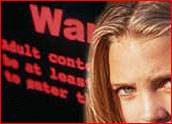 The Entertainment Software Rating Board (ESRB) and CTIA have unveiled a new rating system for mobile software applications intended to help parents monitor activity as the number of children with smartphones and access to wireless content increases.
The ESRB has had a similar system in place for computer and video games since 1994, and it said it aims to put a system in place for the hundreds of thousands of apps and online games now available on devices like phones, personal media players and tablets.
ESRB worked with AT&T, Microsoft, Sprint, T-Mobile, U.S. Cellular and Verizon Wireless to develop the ratings. However, two of the biggest players in the app world are notably missing from the mix.
Apple and Google, proprietors of the two largest mobile app outlets — the iOS App Store and the Android Market, respectively — were not part of the development of the system. The two app storefronts already have rating systems in place, and the two companies won't adopt the ESRB's new system.
"We've put a lot of effort into Android Market's rating system, which now works well globally. So while we support other systems, we think it's best for Android users and developers to stick with Android's existing ratings, which are well-known and understood," a Google spokesperson said in a statement provided to TechNewsWorld by Christopher Katsaros, communications at Google.
Apple declined to comment on the matter, and representatives from the ESRB declined to comment beyond the press release.
Consumer Protection
As the number of easily available mobile software applications expands daily, more protections are demanded by consumers, especially those with young children.
"There is certainly consumer demand, more than ever, that kids are kept safe and only exposed to age-appropriate material, especially with all the on-demand options with smartphones. It used to be that there were maybe hundreds of titles in a store to be purchased by a parent or guardian, but now you are literally able to download hundreds of thousands, and parents may or may not have involvement with that," Scott Steinberg, CEO and lead analyst at TechSavvy Global and author of The Modern Parents Guide e-book series, told TechNewsWorld.
Steinberg likened today's growing mass of mobile content to the Wild West of the digital frontier, a sentiment the ESRB and its partners echoed when establishing the system.
"To their credit, the CTIA and ESRB are making a conscious, forward-thinking effort to protect children and families from questionable material. I think we should applaud them for at least doing that. It's a battle that needs to be fought, day to day on the front lines," said Steinberg.
No-Go Without the Big Players?
However, reviewing, managing and rating the hundreds of thousands of apps already published, as well as the multitude that enter the market each day, will be a challenge. And without the biggest app providers behind the system, it might have trouble gaining notoriety.
"Apple and Google have established rating systems in place. Neither of these companies is looking to allow a third party to manage or administer the content of their distribution patterns," Piers Harding-Rolls, head of games at IHS Screen Digest, told TechNewsWorld.
In addition, the rating system would be a U.S. system, while Google and Apple reach global consumers, many of whom are in emerging markets.
"The mobile apps market is truly global, so it may be a sufficient answer to have either country-by-country legal enforcement or each carrier or platform adopting its own standards. In other words, eventually mobile may have no choice but to agree to pan-industry standards, although I don't think we're at that stage just yet," Jas Purewal, a games lawyer at law firm Osborne Clarke, told TechNewsWorld.
The lack of global accountability and support from iTunes and the Android Market could be a recipe for disaster for the ESRB ratings.
"Unless either Apple or Google have a change of heart, I believe the ESRB are in a weak position and will struggle to make their system the standard for the mobile games apps markets. Though a number of U.S. mobile networks and Microsoft have signed up to the new rating system for their own app marketplaces, the dominance of Apple and Google within the apps market means that without their support, the ESRB is unlikely to gain significant traction," said Harding-Rolls.