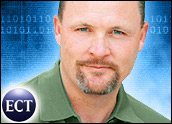 Web services provider Affinity Internet launched a service today that allows small businesses to target online advertising to Web searchers in specific geographic areas.
As its name suggests, Value Traffic Local localizes online advertising efforts to ensure businesses that primarily serve local customers aren't paying for a broader reach.
Instead of displaying local ads by corresponding zip code, ValueTraffic Local ads are only displayed for people at a computer in specific areas who search for specific keywords.
Jim Collins, president, Affinity Internet, said the new service goes to the heart of the value of online marketing for small businesses: "Targeting of this local nature is rivaled only by the Yellow Pages — but instead of paying for a Yellow Pages ad and hoping people find you, ValueTraffic Local ensures that people actively seeking your service will get beyond your advertisement and all the way to your site, thus increasing the smallbusinesses chances of selling product or services."
Advertising Where the Customers Are
In order to target the ads, the client works with a ValueTraffic Local account manager to determine the physical location of where they would like the ad to appear.
The ValueTraffic Local team then targets that area by either specifying a single point in the form of a street address or latitude-longitude point, or by specifying an area created by three or more geographical points designated by latitude or longitude. The process ensures that the client's ads will only be shown to searchers within the preferred area.
Kelsey Group analyst Greg Sterling told TechNewsWorld that the Internet's local reach is tremendous. His research shows that 70 percent of consumers use the Internet to find local information and the majority of small businesses sell to customers within a 50-mile radius. This combination, he said, makes localized online advertising critical for small businesses.
"There has been a lag between consumer adoption of the Internet for local search and small business adoption of Internet advertising," Sterling said. "There haven't been a lot of people to push these types of localized advertising products to local businesses. Affinity is offering a valuable product, especially for service-oriented businesses that don't ship products from A to B."
Full-Service Marketing
In addition to local targeting, ValueTraffic Local offers the same features of Affinity's standard ValueTraffic service, including a dedicated, professional account manager, Web site and marketing analysis, and creation, execution and management of the client's online marketing campaign.
The ValueTraffic marketing team analyzes the client's Web site, advises on improvements, develops the ads, purchases advertising on the client's behalf and produces weekly reports on the performance of the client's ad campaigns.
The service gives small businesses the power and expertise of a seasoned marketing department. The product will be sold at a monthly fee of US$100, with aone-time set-up fee of $100.