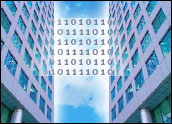 Airgo Networks today announced its third generation True MIMO chipset with support for data rates up to 240 Mbps. The company said its technology makes wire-free offices a reality.
Like its earlier generation products, Airgo's third generation chipset is based on MIMO (Multiple Input, Multiple Output), the "spatial multiplexing" technology invented by the company's founders.
Airgo's chipset is designed to enable content, such as media-rich Internet, large files, video, IPTV, music, photos and games, to be distributed across a wireless network.
"When MIMO was first unveiled, it reversed over 100 years of scientific thinking by harnessing natural radio wave distortions, which were previously perceived as interference, to deliver dramatically increased speed, range and reliability," said Greg Raleigh, President and CEO of Airgo Networks. "With True MIMO Gen3 technology, our team has achieved a scientific milestone by proving that wireless can surpass wired speeds."
Making Big Claims
Airgo claims real-world tests show its third generation True MIMO provides actual TCP/IP throughput of over 120 Mbps with uncompressed traffic, surpassing the performance of wired 100BaseT Ethernet.
In addition, Airgo's True MIMO Gen3 chipset features a single chip with two complete radios fully integrated to achieve further aggressive board-level integration, which the company claims has resulted in a 15 percent reduction in the overall Bill of Material (BOM) cost and a 20 percent reduction in power consumption.
"The emergence and mass adoption of MIMO-enhanced 802.11a/b/g marks the ascendance of wireless as the preeminent networking technology," said Craig Mathias, a principal with the wireless and mobile advisory firm Farpoint Group in Ashland, Ma. "The ability for wireless to surpass the speed, range and reliability of wired networking is the key to making the wire-free office and digital home a reality, and will usher in a host of powerful new applications in the home entertainment and wireless communications markets."
Long-Term Play
But Bob Wheeler, senior analyst with The Linley Group, told TechNewsWorld that while the technology promises to distribute digital video throughout the home, it won't happen this year because the market is still waiting on consumer electronics and service providers to catch up with the chipset technology.
"This new product will reduce the cost of Airgo's existing retail products," Wheeler said. "It basically makes MIMO available to a broader range of consumers. That's good for basic robust home networks."
Airgo's first and second generation MIMO technology is currently shipping in a wide range of products from companies including Belkin, Buffalo, Linksys, Netgear, Planex, Samsung, Smartvue and SOHOware.
As far as the wireless office, Wheeler said that is also a long-term play. While small offices may avoid the need for a wired office with this chipset, larger enterprises are not expected to replace their wired networks until the 802.11 n standard is ratified in 2007.
Building Momentum
But analysts said Airgo nonetheless is gaining momentum in the marketplace. Magazine reviews consistently rank its products at the top of the list in terms of coverage, an area that has traditionally been a huge challenge for home consumers.
"WiFi chipsets represent about a US$1 billion market," Wheeler said. "Airgo is already getting a decent chunk of that market through their existing products."
Airgo's third generation of True MIMO is currently sampling to select partners, with retail product availability expected by late in the fourth quarter this year.