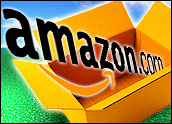 Amazon.com has begun peddling Microsoft's Windows Vista operating system on its Web site. The Internet giant is displaying the Vista logo and has priced the software at US$100 to $399. Pricing is similar to what Microsoft currently charges for most versions of Windows XP.
The software is not yet currently shipping, but Amazon is allowing customers to pre-order the product, which it plans to have available on Jan. 30, 2007, according to its Web site.
The Windows Vista product lineup consists of two versions for businesses, three for consumers, and one for emerging markets. The products have been dubbed, respectively, Windows Vista Business, Windows Vista Enterprise, Windows Vista Home Basic, Windows Vista Home Premium, Windows Vista Ultimate and Windows Vista Starter.
Each product in the lineup is tailored to meet specific needs of different user groups — home PC users, small and medium-sized businesses and the largest enterprises — and looks to bring 64-bit, Media Center and Tablet PC functionality into the mainstream.
Leaking Pricing Strategies
According to Amazon.com, Windows Vista Business, the version aimed at companies, will cost $299. That corresponds with the current price of Windows XP Professional. Windows Vista Home Basic, the consumer version of the operating system, will cost the same as Windows XP Home — $199.
Windows Vista Premium, the version that offers entertainment capabilities including live television recording features, is listed at $239. This Vista flavor is similar to the Media Center edition of Windows XP.
Finally, Amazon.com lists the price of Vista Ultimate for $399. As its name suggests, Ultimate targets home users who need the best of both home and work worlds.
Amazon did not return calls seeking comment.
Moving Along
JupiterResearch Analyst Joe Wilcox sees the Amazon listings as a sign that development is moving ahead and that Microsoft could indeed release the software in January as planned.
However, uncertainty will still surround the final release date until Vista Release Candidate 1 (RC1) finds its way into the hands of testers, he told TechNewsWorld. If it's a smooth process, Microsoft will move forward. If there are any major problems uncovered, it could once again cause the company to reassess the release date.
"It's like the weather forecast. We need just one event to happen before we know whether it's going to be a sunny Windows Vista release or another stormy delay," he quipped.
Microsoft Responds
Despite the fact that Amazon has listed pricing info on its site, Microsoft has so far declined to comment on its Vista pricing strategy or to confirm that it has begun talks with retailers.
"It is still too premature for us to comment on the final pricing for Windows Vista," Kevin Kutz, director, Windows client, Microsoft, told TechNewsWorld.
"We plan to announce Windows Vista U.S. pricing when we ship Windows Vista RC1, later this quarter," he said.
Microsoft also declined to provide specific shipping dates for Windows Vista, but reiterated that it is targeting November for volume license customers and January 2007 for general availability. "The exact delivery date will be subject to achieving quality metrics based on customer feedback," said Kutz.