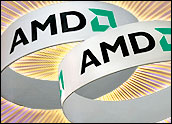 AMD CTO Mark Papermaster outlined his vision of the future of computing at this year's Hot Chips semiconductor design conference, detailing his plans to build systems where natural human communication could allow greater interactivity between users and computing hardware, a concept he called "Surround Computing."
Papermaster outlined a world in which natural user interfaces such as gestures, fingerprints and facial recognition replace keyboards, touchscreens and mice for interactive experiences on tablets and other devices.
That added degree of tactile interaction can help users connect more naturally with their electronic hardware but would require more power for data servers to keep up with the onslaught of information constantly thrown at it.
Surround Computing would also require chips with more diverse capabilities. AMD is unveiling architecture for central processing units (CPUs) and support for the Heterogeneous System Architecture (HSA) that helps developers optimize power by assigning specific workloads to different parts of the computer units, Papermaster said.
The overall concept is similar to one often referred to as the "Internet of Things." At the Hot Chips conference, though, Papermaster detailed some of the more technical requirements and total industry collaboration that would have to happen to make his Surround Computing idea a reality.
AMD did not respond to our request for more details.
Moving Beyond Speed
"Another way to innovate is to make microprocessors more natural," Jim Turley, owner of Silicon Insider and analyst at GigaOM Pro, told TechNewsWorld. "Instead of making faster number-crunchers, how about if we make chips that can understand, in a very loose way, human interactions? Less whiz-bang, more touchy-feely."
Surround Computing may well be one way to describe the next logical step in processor technology, said Jim McGregor, founder and principal analyst at Tirias Research.
"It is really the next revolution in computing that allows devices, particularly mobile devices, to interact with the physical world without the user through the use of sensor technology and cloud resources. The combination of sensors and intelligent applications will allow devices to be more than just a link to the digital world, but truly useful solutions that will become part of lives," McGregor told TechNewsWorld.
It would be possible, for instance, for a smartphone to tell a user who was driving to avoid an accident ahead, without that user clicking on an app or asking for information, said McGregor.
"It's a much sexier goal than simply saying, 'I want tomorrow's PCs to be 15 percent faster,' because we're already bored with that,"said Turley.
Joining Forces
The movement, according to Papermaster, is just around the corner, although he acknowledged that it would take an "industry movement" to complete this task. Considering how many different industries must join — cloud computing, microprocessing architecture, etc. — that might be a bigger hurdle than Papermaster makes it seem, said Turley.
"The 'surround computing' concept is a neat idea, but it's just one person's or company's vision; it's not some sort of universal industry-wide goal that everyone is shooting for," Turley told TechNewsWorld.
And aside from convincing everyone to jump on board, there need to be significant technical advancements that will make Papermaster's vision possible.
"Chips need to be more efficient and heterogeneous," said McGregor. "There is no one-size core that fits all data sets or applications. The processors need to be able to scale power and performance to the needs of the application while being aware of the battery life issues."
Battery life is still a major hurdle, as well as the current wireless spectrum crunch — two challenges that are unlikely to disappear soon, said McGregor. Those obstacles might make Papermaster's vision more ambitious than he thinks, but that doesn't mean the industry can't head toward the version of the computing world he sees, said Turley.
"We all want the 'Minority Report' experience, where we wave our hands in front of the computer and it knows what to do," said Turley. "We're actually not far away from that, maybe five years. It's very doable. Beyond that, it's hard to say. We're all looking for new avenues to explore. Thus, each microprocessor company is nosing around looking for the next big thing and hoping that they've got some sort of edge. AMD is in dire straits these days, so the company needs an audacious goal for itself, and this sounds like a good one."