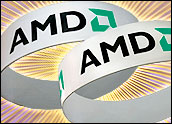 Advanced Micro Devices has announced the availability of its AMD 690 chipset, the first integrated chipset that includes the recently acquired ATI Radeon X1250 graphics processor.
Integration of the Radeon processor means that PCs based on the 690 chipset will not require any additional graphics cards, according to AMD.
The move is likely the first step in achieving AMD's long-term mission — set shortly after it acquired ATI — of combining functions of the microprocessor with those of the graphics processor on a single chip.
Delivering to Partners
The launch of the AMD 690 series chipset will deliver to channel partners and end users "customer-centric innovation," said Dave Erskine, a spokesperson for AMD.
"AMD is attempting to leverage platforms for the commercial and consumer markets in visual computing experience, energy efficiency and stability," he told TechNewsWorld.
AMD plans to complete development of a single silicon chip, dubbed "Fusion," that will fully combine the microprocessor and graphics functions, in about two years, Erskine noted.
Leveraging Graphics Abilities
AMD acquired ATI Technologies late last year for US$5.4 billion and moved quickly to leverage the company's industry-leading graphics capabilities with its own processors. The chipset is the PC component that connects a processor with other components.
"This is just the first in a line of innovative, high-performance AMD chipsets that we'll introduce to address every sector of the market," said Phil Eisler, corporate vice president and general manager of AMD's chipset division.
Running With Vista
The AMD 690 also supports ATI Avivo technology, which lets users of the Premium or Business versions of Windows Vista run the new Aero user interface. Aero makes the windows and icons on the screen translucent.
The 690 chip set is compatible with AMD's desktop processor lineup and offers several high-end features, including integrated DVI (digital visual interface) and HDMI (high-definition multimedia interface) outputs for high-definition video.
The new chipset also includes hardware decoding for MPEG2, the video compression technology used with DVDs — which means less CPU (central processing unit) power is required when playing DVDs on a computer.