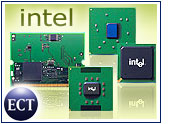 Just days after dropping prices on its line of Centrino mobile processors for notebook PCs, Intel has added an incrementally speedier chip: the Pentium M 765. Analysts said the new chip is no big deal.
Jim McGregor, principal analyst at In-Stat/MDR, told TechNewsWorld that the slightly higher speed chip will have no impact on the market.
"This is simply a process called a 'binning,'" he explained. "Products are binned according to speeds they pass testing at. Typically as a product matures, especially on a new process, yields at higher speeds increase. The company will introduce the higher speed when they know they can yield enough to meet projected demand. This also allows them to charge a premium for the new speed grade. Likewise, they drop slower speed grades as the parts yield at the higher speeds. This is exactly what Intel is doing."
Intel's Specs
The 765 offers 2 MB of Level 2 cache and what Intel calls a "power-optimized" 400 MHz system bus. The company said the chip runs at a clock speed of 2.1 GHz. That power optimization gives it a slight edge in speed over the 755, which runs at 2 GHz.
The 765 will cost US$637 for 1,000. The new price for the 755 is $423 for 1,000.
Intel announced the price drops Oct. 17. At that time Mercury Research president Dean McCarron told TechNewsWorld that the company lowered prices to "make room for the new products at the higher price points."
McCarron also said that the changes don't impact the market, but "what does change is that you get a higher performance processor at any given price." This is what has happened with today's announcement.
Available Worldwide Today
The new chip will be used in notebooks that Intel introduced worldwide today. The chip includes power-saving technologies that help extend battery life, although the company did not say by how much.
Intel is using its 90 nm fabrication technology to manufacture the 765. The company said that half its chips are now made using the technique.