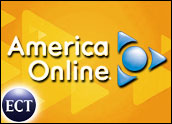 AOL on Monday launched the first beta version of its new Chinese language AOL.com Web portal. The new site is aimed at the Chinese American and Chinese speaking community in the United States.
Created in both simplified and traditional Chinese characters, the site offers Web search, blogs and e-mail features with news from North America, Europe and Asia.
The portal will also offer as many as 20 hours of video content and programming at any given time, including free, full-length movies and episodes of popular TV shows from China and Web casts of sports events from China.
"By creating this free language-specific portal, we can better serve the millions of people in the United States who want access to features like e-mail, search, entertainment, and news in one place, in Chinese," said David Liu, vice president and general manager, AOL.com.
Chinese Functionality
The Chinese language AOL.com features many of the same features and functionality found on the English version, including AOL Web Mail and AIM Mail services in simple and traditional Chinese. Additional translation will be incorporated on the mail interface soon, AOL said.
The Chinese version AOL also features blogs integrated from the Web logs media network, including Engadget about technology topics and Autoblog, which covers automotive topics. Of course, AOL search will empower users to find what they are looking for in simplified and traditional Chinese.
With China boasting the fastest growing economy, AOL has made a smart move, said Gerry Kaufhold, principal analyst for Converging Markets & Technologies for Cahners In-Stat. He told TechNewsWorld an Indian language portal could be fast on the heels of this announcement.
"This is the true power of the Internet being demonstrated. You remember how in 1999 and 2000 during the dot-com boom everybody was saying the Internet would change the world? Well, here it comes," Kaufhold noted. "We are on the verge, and AOL is positioning itself to become a global content provider that expands well beyond its U.S. roots. It's a bold strategy."
Featuring: Chinese Pop Culture
Video programming will be freely available with hours of new content and entertainment every week in Chinese, including full length movies from China that may include such choices as hit and classic movies, "Shanghai Story" and "Five Golden Flowers."
Full length episodes of TV series from China that may include the hit drama, "Love Story of Hero & Beauty," the first Chinese sitcom, "I Love My Family," and popular soap operas from China and Korea will also be found on the new site, along with full length Chinese TV programs such as in-depth news magazines, talk shows and variety shows.
Chinese AOL users will also enjoy Web casts of sports events in China covering soccer, basketball, table tennis and swimming.
The Evolution of AOL.com
"This launch represents another phase in the evolution of the U.S. AOL.com Web portal and extends our effort to efficiently leverage our Web products, content, communities and services in a context that brings the most value to different segments of our users who share common languages and culturalbonds," Liu said.
AOL worked with ChinaPortal.com, a division of Naspers subsidiary MediaZone and a global provider of broadband video programming, as a strategic partner. MediaZone will provide the majority of content for this site covering news, sports and entertainment, including exclusiveprograms and event Webcasts from China.