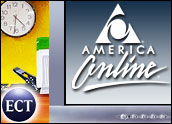 Don't count America Online out of the broadband Internet access business just yet. Despite its focus on new offerings, the media giant on Friday announced plans to expand its broadband network coast-to-coast.
AOL will partner with BellSouth, Time Warner and Verizon (NYSE: VZ), as well as other major DSL suppliers, to complete its broadband mission. Consumers in these markets will be able to access the AOL service for about US$30 a month.
"With the new AOL broadband network, we're leveraging the strength of our service and our customer relationships to make the most of the shifting broadband marketplace," said AOL Chairman & CEO Jonathan F. Miller.
AOL is taking advantage of the improving economics of broadband access to create an offering that combines its service with the speed of broadband at a competitive price, Miller added.
A Necessary Move
AOL has an urgent broadband problem to solve, according to independent telecom analyst Jeff Kagan. The company has painted itself into a corner by not having a true high-speed offering for its 20 million customers, he told TechNewsWorld, and had to make a move to stay in business.
"AOL has tried many things over the years to solve this problem and none of them have worked," Kagan said. "This [plan] sounds good. It's a branding solution that helps AOL remain important to the customer. AOL has to prove it works, but it could be what AOL is looking for."
High-Speed Promotions
Of course, now AOL has to get the word out. The company plans to engage in aggressive marketing for the new broadband offering, which will let its members access the service's security features and exclusive content on a true high-speed DSL Internet or cable connection.
AOL will introduce a nationwide advertising campaign in efforts to build excitement among AOL members and others who want to upgrade from dial-up to AOL High Speed.
"We're starting to let AOL members know about this opportunity now to strongly encourage them to improve their online experience with a better, faster Internet connection," said Joe Redling, President of AOL's Access business.
A Multimedia Campaign
To create and implement the campaign, AOL is working with BBDO New York for national television, radio and print advertising. Initiative Media will manage media planning and buying.
The campaign features regular people effortlessly keeping up with elite athletes who are competing in skiing, cycling, swimming and other sports.
Designed to appeal to AOL members and those considering upgrading to a high-speed connection, the ads highlight the campaign's premise that everyone wants to be fast and can be with AOL High Speed.
"AOL is committed to offering our members the best high-speed experience — not just faster dial-up but true broadband from a cable or DSL connection," Redling said. "We've seen in recent market tests that our members respond very strongly to the ability to more simply combine what they have from AOL with what they want from a broadband connection, and now we're going to deliver it from coast to coast."