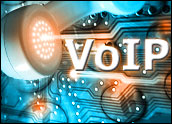 In yet another sign that Voice over Internet Protocol (VoIP) is heading for widespread adoption, both AOL and Microsoft unveiled plans for new Internet telephone services today — AOL with its announcement of TotalTalk, and Microsoft with news of a deal with Qwest Communications.
While AOL is shooting for the masses, Microsoft is targeting small- to mid-sized business customers. Their announcements further illustrate the hectic movement in the VoIP space of late. Microsoft acquired Teleo in late August. Vonage is reportedly eyeing a US$600 million IPO, Google is entering the field with its own offering, and, of course, eBay acquired Skype in a high-profile $2.6 billion deal last week.
"Although pricing has certainly been a key factor in the early development of the VoIP industry, we believe that it's the richness of the customer experience that will ultimately drive mainstream adoption of VoIP," said Michael O'Hara, general manager of marketing for the Communications Sector at Microsoft.
AOL Plays Catch Up
AOL said it will roll out its new service on October 4. Dubbed TotalTalk, the company said its service transforms any high-speed Internet connection into a quality phone service with savings of up to 40 percent off monthly phone bills, compared to traditional landline service. TotalTalk is available to all consumers, regardless of which Internet Service Provider they use to get online.
TotalTalk includes unified voice, e-mail and instant messaging, enhanced voicemail and call management capabilities, and the ability to make and receive calls on a home phone line from anywhere users have access to AIM. Call Waiting, Caller ID, 911 emergency calling, Star Codes, voice mail integrated with e-mail and three-way calling are also included.
Gartner analyst David Willis told TechNewsWorld that AOL has to play catch up with the rest of the Internet search and portal vendors. AOL's just-announced partnerships with Pingtel, Global IP Sound and On2 are a bid to regain some lost ground on the VoIP front.
"People will download the AOL client, they'll download the Google client and the Skype client," Willis said. "It's free to call any of those communities and it doesn't cost you anything to join the community; therefore, you become a member of all of them."
Microsoft's Multiple Plays
Meanwhile, Qwest Communications and Microsoft are teaming up to provide small and medium-sized business (SMB) customers with a converged communications solution. The partnership integrates the Microsoft Solution for Enhanced VoIP services with Qwest's OneFlex VoIP services to combine VoIP, e-mail, Internet access, collaboration, presence, instant messaging and desktop services. The companies expect the service to be available in 2006.
"Small and medium-sized businesses want access to the same types of communications services that large enterprises enjoy today, but the investment and resources required to manage those services have traditionally been out of their reach," said Tom Richards, executive vice president of the business markets group at Qwest.
Willis said Microsoft has several plays. There's the move to sell MSN as an online service, the play to justify upgrading to Microsoft Vista to get free voice traffic, and the pure VoIP strategy.
The Telcos' Flat-Rate Moves
The Internet telephony movement is causing the telcos to react with offerings of their own. Analysts said that could mean moving customers to flat rate long distance products to curb the migration to low-cost VoIP. But that strategy will take revenues out of the telcos' pockets.
"There's no real good news here for the telcos, except ultimately it will allow them to create unique services and give customers more control about the phone services they offer," Willis said. "So they can talk about the softer benefits of voice over IP instead of just having cheaper voice."