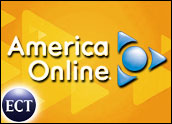 America Online on Monday announced that it has teamed up with Mark Burnett Productions, the company that propelled the concept of reality television into the mainstream.
The companies have signed a major production deal to develop a real-life treasure hunt airing exclusively on the AOL.com Web site. "Gold Rush!" will track competitors searching for hidden treasure across the United States.
The clues will be placed throughout the AOL network, including Web sites such as AOL.com, AIM.com, Moviefone.com and MapQuest.com. The clues and the show will also be promoted in other media, including television, print and wireless.
"This is a totally original concept that comes to us from the guy who created reality television," said Jon Miller, chairman and CEO of America Online. "It defines engagement; it's disruptive by nature, and it will certainly be habit forming — all the best of the Internet in one fell swoop."
AOL: More Than Surviving
Teaming up with Burnett is a coup for AOL. He is the creator of "Survivor," "The Apprentice" and "Rock Star." Every reality TV show he touches seems to turn to gold. AOL hopes "Gold Rush!" will replicate Burnett's offline success.
"With 'Survivor,' 'The Apprentice,' 'The Contender' and 'Rock Star,' I've been amazed by the volume of fans who constantly want to communicate online about each of these shows. They clearly want a lot more content than they can enjoy during one hour of television per week," Burnett said.
Different This Time
"Gold Rush!" is AOL's fourth online reality show. Others include "The Biz," a show produced in partnership with Warner Music Group, and "Start Up," which targets the small-business audience. "Gold Rush!" has an advantage, though, because it carries the Burnett name.
Burnett's productions have garnered a total of 33 Emmy nominations since 2001. He was listed as the No. 1 Most Valuable Player by TV Guide and has been listed among Time magazine's Top 100 most influential people in the world.
Mark Burnett Productions has also produced hits like "Eco-Challenge" and "The Contender" and successfully reintroduced product placement as an integral part of each of its shows.
Day Time Is Prime Time
"The world is changing, and the Internet is about to become the next broadcast network. With the volume of people able to watch content on their computers between 9 a.m. to 5 p.m., it could very well become the new primetime," Burnett said. "The immediate future will take advantage of content that utilizes television, print and the Internet in concert. AOL and I are embracing this immediate future through 'Gold Rush!'"
There is some truth to the idea that day time is prime time for the Web, according to MediaWeek senior reporter Mike Shields, because people are at the office where they are likely to have access to high-speed Internet. It could be a new "in" for interactive advertisers, he said.
"Everybody you talk to in the industry says there's a shortage of good video inventory on the Web. It's a very tight market. If there is an opportunity to run streaming video ads, then advertisers would be all over that," Shields told TechNewsWorld. "As far as the product placement angle goes — if you can do it the right way, it's a no-brainer for the right advertiser."
Second Wind for Reality TV
Yahoo is also said to be planning a reality TV show with Burnett. If these shows hit, could it be the beginning of a second wave of reality-based programming? Shields thinks so.
"There's always talk about the increased amount of broadband content online and how most of it has been repurposed cable or network programming," he said. "The Web is still looking for its first big hit series. If this takes off, you'll see a lot more experimentation."