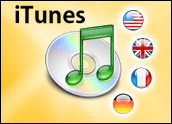 Apple Computer has been talking with major recording companies in efforts to license music videos to sell through its iTunes Music Store, according to a report published in yesterday's edition of The Wall Street Journal.
The iPod maker may be seeking to replicate its success in digital music downloads with the offering. Apple said yesterday that it has sold 500 million songs via iTunes since it opened its virtual doors two years ago.
Video iPods
If Apple is successful in negotiating licensing agreements with various recording companies, it may be likely that renewed talks of a version of its popular iPod music player that plays video is not too far off.
The Journal is reporting that Apple has already told some entertainment industry executives it could unveil a video-capable version of its music player as soon as September.
The videos would likely cost US$1.99 each via iTunes, according to the Journal. Consumers may be eligible for a discount if they buy a music video and a digital song at the same time.
Not the First
Apple would hardly be the first to market with a video-enabled iPod-like device. Nokia's 7710 widescreen smart phone features a set of streaming video features, along with higher screen resolutions, handwriting recognition, pen input, Internet browsing, music player, stereo audio, FM radio and megapixel camera with 2x zoom.
Apple would not be the first to introduce a video download service, either. CinemaNow recently forged alliances with Warner Music Group and TVT Records to sell music videos on a download-to-own basis via WatchMusicHere.com.
Another new music video download service from MediaPass provides portable content for Windows Mobile-based devices. And AOLMusic.com in April signed an agreement with Universal Music Group and Warner Music Group to bring thousands of music videos to AOL.
Apple may be able to build on its already-proven iTunes success, however. The Journal reports Apple is also talking with Universal Music Group and Warner Music Group, along with EMI Group and Sony BMG, about striking its own deals for video downloads.
Repeat Performance?
Apple posted 75 percent revenue gains on its iPod and record profits in the latest quarter. The company's net income rose to $320 million, up from $61 million in the year-ago quarter. But some analysts doubt it's realistic that Apple could duplicate its success in the video market.
Inside Digital Media senior analyst Phil Leigh told MacNewsWorld he doesn't see a repeat performance in the short-term.
Leigh said he believes portable video will remain somewhat of a novelty until such time as consumers are able to put on a pair of eyeglasses that act as a computer screen and hook into the iPod just the same way as headphones.
"Apple is adding features that do two things," Leigh said. "First, it gives them a 'gee-whiz' type of capability. Second, there is a small fraction of people, less than 10 percent, that will want to [use] it on a regular basis."