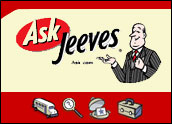 Ask Jeeves this week announced the launch of its first proprietary image search technology. The company also unveiled plans to move into Germany with a locally targeted search site.
Ask Jeeves' new technology includes its first internally created index of Web images, further improvements to its image search ranking algorithms and new search suggestions created specifically for image searching. Image search accounts for 16 percent of all searches on Ask Jeeves.
"Image search is the second-leading type of search on Ask Jeeves after Web search. The improvements we are introducing today move the needle for searchers where they really need it," said Jim Lanzone, senior vice president of search properties at Ask Jeeves.
A New Image
With the new image technology, Ask Jeeves is also expanding Image Smart Answers, which appear at the top of the search results page from the main Web channel.
All picture results can be saved to users' MyJeeves, a personal search service where links to Web pages, images and selected Smart Answers can be stored, organized, annotated, searched and shared.
"Image search is an important technical challenge to solve for our users," said Apostolos Gerasoulis, executive vice president of search technology for Ask Jeeves. "We find that, as we concentrate our efforts on providing first-class relevance and tools for image searching, the usage of the Pictures channel on Ask.com steadily continues to grow."
Clustering Algorithms
The company's image search technology uses Ask Jeeves' algorithmic search ranking, which clusters the Web into topic areas and determines the authoritativeness of pages and images among their topic community. This approach requires additional computations beyond that of other ranking methodologies that simply evaluate the popularity of pages and images on the Web at large.
Ask Jeeves combines this methodology with new image recognition technologies to further increase relevance. These patent-pending recognition technologies measure a wide variety of image attributes, such as image type, shape, brightness and contrast level to determine picture quality.
Zooming In
Meanwhile, its proprietary "Zoom" search feature gives users suggestions on how to narrow or expand their search.
Ask Jeeves has expanded this concept, which was introduced for the Web Search channel in May of 2005, and tailored it for the Image Search channel. As with Zoom for Web search, the product is derived from the Ask Jeeves' search engine, which clusters the Web by topic as part of its relevancemethodology.
Ask Jeeves faces stiff competition from the likes of Google, Yahoo and MSN. "Ask Jeeves doesn't even provide as much natural search traffic as AOL or MSN and averages less than 1 percent of a site's natural search traffic," said Jason Dowdell, who operates MarketingShift, a Web site focused on media research and technology.
"In my small sample size, Ask Jeeves doesn't even hold a candle to the amount of natural search traffic Google Images drives to a Web site," he told TechNewsWorld.
Moving Into Germany
Also this week, Ask Jeeves introduced the beta version of Ask Deutschland, the company's most recent expansion in Europe.
Following the launch of Ask Espana in 2005, Ask Deutschland is the first in a number of European launches Ask Jeeves plans for 2006. The company said it plans to leverage the strength of its brand, its technology and partnerships with leading consumer media companies to grow share in emergingmarkets.
"Germany has the greatest number of Internet users in Europe, with more than 42 million people online, and we believe it will be a very important market for the growth of Ask search technology and the Ask brand," said Steve Berkowitz, CEO of Ask Jeeves.
German Confidence
Ask Jeeves is confident about its prospects in Germany. As the German search market grows, Malte Krueger, business development director for Ask Deutschland said he believes it will be among the top players in the industry.
"Backed by Ask Jeeves search technology, the new site will offer more of what Internet users are looking for, from finding information on news, weather and entertainment to browsing the best shopping and travel sites," he said.
Ask Jeeves is looking for a place to get a dedicated following of search users because its reach in the U.S. is marginal at best, according to Dowdell.
"Possibly they'll be more appreciative of the Ask Jeeves technology than the uncaring American public," he said.