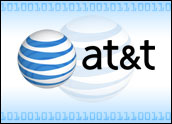 AT&T on Monday announced plans to expand its high-speed Internet service. The telecom giant will sell satellite-based access to customers in rural areas where traditional broadband over phone lines is unavailable.
The service, delivered via an operating agreement with high-speed Internet provider WildBlue, will be offered to AT&T customers in local service areas in 13 states beginning later this month. It will be branded under the name "AT&T High Speed Internet Access, powered by WildBlue."
WildBlue provides broadband Internet access via satellite to homes and small businesses in communities not currently served, or underserved, by other broadband providers.
"Innovation and a meaningful commitment to bring those advances to all of our customers were at the foundation of our efforts to create the new AT&T," AT&T Chairman and CEO Edward Whitacre said. "With our resources, scope and expertise, AT&T today is well positioned to deliver the benefits of new innovations to customers of all sizes — from the largest global enterprises to small businesses to consumers.
The Wild Blue Yonder
An always-on broadband Internet connection, WildBlue's service offers access speeds that are up to 30 times faster than dial-up. WildBlue's two-way wireless service provides high-speed data in both directions — upstream and downstream. Customers do not need an additional phone or cable line in order to receive satellite broadband Internet access.
Rural satellite broadband subscribers will have three service packages to choose from, with prices ranging from US$49.95 to $79.95 per month, and broadband speed options ranging up to 1.5 Mbps downstream and up to 256 Kbps upstream. AT&T satellite customers will have direct access to the public Yahoo portal, which will be set as customers' default Internet home page.
"AT&T's key advantage is this big contiguous footprint where they could basically serve everybody in the state if they come up with an offering that appeals to everybody in the state. So it's just a much bigger market opportunity than cable providers have right now," Gerry Kaufhold, principal analyst at In-Stat, told TechNewsWorld.
Broadband Initiatives
AT&T also announced additional moves to underscore is commitment to delivering broadband access. The company affirmed its intent to make its Project Lightspeed video services available — within three years — to more than 5.5 million low-income households as part of its initial build in 41 target markets, making them among the first in the nation to receive these new IP-enabled video services.
AT&T plans to spend approximately $4.6 billion on its Project Lightspeed initiative to reach nearly 19 million homes by year-end 2008 as part of its initial deployment.
The company also announced plans to expand the scope of its market efforts related to WiMax and other fixed wireless technologies. New deployments will begin later this year in Texas and Nevada, joining existing AT&T fixed wireless service offers in Alaska, Georgia and New Jersey.
"AT&T could be the broadband provider for everybody, but it has to have ways to get to rural locations, which is the WildBlue satellite broadband approach," Kaufhold said. "You have to have a way to reach smaller cities, which WiMax does very nicely. Then you also have an opportunity to reach neighborhoods where you don't have fiber. That's where WiFi and the 2.3 gigahertz and 2.5 gigahertz regions they have for fixed wireless all fit in."