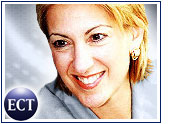 After closing the controversial merger with Compaq engineered last year by CEO Carly Fiorina, HP has become one of the world's largest technology companies, with US$71.8 billion in annual sales.
But does HP really lead the world in any new technology fields, and does it have the right technology strategy to sustain it through the coming years? Or has the company simply become a monolith, moving forward on the momentum generated by the merger?
"That's a very broad question," Mary Ann O'Laughlin, president of Ovum North America, a research consultancy that covers the computer industry, told TechNewsWorld. "One with no easy answers."
Number One in Notebooks
According to IDC, HP holds the number-one position in the worldwide notebook PC market. During the second quarter of this year, the company generated 48 percent unit sales growth and increased its share of the global notebook PC market to 17.3 percent.
"HP has gained a significant share — easily outperforming the rate of the overall market — by offering customers the convenience of purchasing through HP partners or direct," said Alex Gruzen, senior vice president and general manager of the mobile computing global business unit in the HP personal systems group. "Our gains are especially noteworthy since notebooks represent the fastest-growing, highest-margin piece of the PC business."
The company also leads the industry in certain sectors of worldwide server sales revenue. In terms of factory shipments and revenues, its ProLiant servers are number one in the world for Linux and Windows, IDC noted. HP also maintained its strong position in the Unix server market and remained number one in total worldwide server shipments, with 30.8 percent market share in the second quarter of 2003.
Meanwhile, HP has been rolling out several new technologies in recent weeks to adapt to changing technology requirements, including two enterprise-class thin clients powered by the Microsoft Windows CE .NET operating system. The new thin clients are to be used in server-based computing applications in which most data is stored on the network.
"With new server-based computing on the horizon, thin clients can be a cost-saving alternative to PCs for all, or parts, of an enterprise," says Jeff Groundan, vice president of desktop marketing in the HP personal systems group.
"The affordability, reliability and manageability offered by these new thin clients mean enterprise customers should take a closer look at how a thin-client computing model could provide a technology return on investment for their company," he said.
Tech Market Not Static
HP does not face a static technology market. Competitors are working on innovations around the globe, especially in hardware, to take away HP's number-one position in several sectors. It is not entirely clear whether the company has the strategic gumption to survive and remain on top.
Indeed, HP's new thin-client strategy seems a worn, old page from the Larry Ellison playbook of yore. Back in the mid-to-late 1990s, Oracle founder Ellison famously promoted the idea of thin clients as a way to defeat the Microsoft hegemony on the desktop. But the strategy never succeeded.
HP, however, believes its strategy has what it takes to make it in the market, especially through partnerships with computer services firms. "HP and Altris are working together to drive down the cost of owning and managing IT assets," said Rhett Glauser, spokesperson for Altris.
HP publicly announced its technology strategy last month at its ManageFusion conference, an event cosponsored by Altris and Wise Solutions. The company also is continuing to move forward on the technology road map for its AlphaServer system. Late this summer, HP began shipping the 32-processor HP AlphaServer GS1280 system, which is said to provide unprecedented scalability and reliability.
"Our AlphaServer road map is right on schedule," said Rich Marcello, senior vice president at HP's business critical servers operation. Trying to dispel doubts about the technology's ability to be an engine for itself and clients, Marcello added that the AlphaServer ensured a "long-term future with HP."
HP's Future Spells Grid
"We continue to be delighted by our decision to use this advanced AlphaServer technology from HP," said Michael Levine, scientific director at the Pittsburgh Supercomputing Center. "With its outstanding processor and memory system performance, the new AlphaServer systems are meeting all our expectations in meeting the diverse scientific and complex research challenges of our users."
The 451 Group, a research organization, soon will release a study about HP's grid-computing strategy, Adam B. Needles, vice president of the 451 Group, told TechNewsWorld. "We've done a significant amount of work lately looking at HP's future and new market opportunities in the grid-utility computing space," he said.
According to Needles, grid computing is an important market that HP is looking into, though HP also is developing key technologies for other markets. Competitors — including Dell and IBM — reckon that HP won't be dominant in any market for long, especially in the enterprise hardware and services sectors.
Of course, the industry-wide move toward grid computing might give something of an edge to HP, with its newfound focus on distributed computing and thin clients. As a setter of trends, HP is often watched as a barometer of which direction the market will go. Clearly, HP, like IBM, is beginning to bet on grid computing. But the company has not — and likely never will — put all its eggs in one basket.