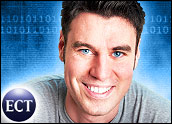 Long after Napster, mainstream software giants like Microsoft are beginning to get into the online music fray with file-sharing applications, and Internet giants like Yahoo are moving to subscription models for digital downloads.
While we've not quite seen a digital revolution yet, file-sharing pundits say we're inching closer to what was promised several years ago. Eric Garland, chief executive of Big Champagne, a firm that tracks Internet file sharing, has been watching the drama unfold for the past five years and says the best is yet to come.
TechNewsWorld caught up with Garland to discuss the impact of recording industry lawsuits on file sharing, the key drivers behind the phenomenon, and emerging trends surrounding the technology.
TechNewsWorld: File sharing has come a long way over the past few years. No one can forget the Napster controversy. Now it seems a digital revolution is impending. Did you see this coming?
Eric Garland: I would be lying if I didn't admit that I absolutely did see it coming. We all left otherwise productive careers and took this tremendous left turn to start our company at that time. The only thing that we got completely wrong in our estimation or prognostication was the timing. I did not think that six or seven years after the start of Napster that we would still be stuck in second gear.
For instance, we predicted that there would be a period of awkward adolescence with intense litigation and legislation. We saw that happen when Napster got sued and we said that there would be more of this. But we thought after a few years there would be a radical shift and a great opportunity to champion these new tools and this social phenomenon. But here we are today in many ways in the same place we were in 2002 with similar court battles. We never anticipated widespread litigation against parentsand kids and average folks.
We also underestimated how much pain the entertainment industry would feel. I never thought that what were 5 percent and 10 percent annual declines for the recording industry starting in 2000-2001 would turn into a condition of the business. Every year we are looking at increasing double-digit declines. I have watched almost everyone I worked with in the entertainment businesses go on to do something else with their lives. Thousands of people have been laid off. They are high school teachers and real estate agents and entrepreneurs now because there are no jobs out there. We had never guessedany of that.
We thought Napster would be a hugely disruptive force and that over the course of a few years we would see digital music take a seat alongside compact discs. We thought it would be a coup but largely a bloodless coup. We thought the industry would figure out a way to embrace and work with new technologies. There were moments when it looked like it would go that way, like when Bertelsmann actually invested in Napster. There were 11th-hour negotiations that almost saw the recording industry take Napster in house.It is fascinating to think what might have been if the recording industry had tweaked Napster as a licensed distribution platform while all of us were experimenting with it.
TNW: How are record industry lawsuits impacting file sharing?
Garland: We can quantify the effect it's had on file sharing as a behavior. But then you have to talk qualitatively in softer terms about an even more interesting thread: the enormous impact it has had on the popular consciousness; our attitudes, our thinking and our understanding about all these previously mysterious issues, like intellectual property and online copyright and what constitutes infringement.
I think the record industry would be quick to claim a win. They think they have inhibited the growth of file sharing. But they haven't reversed the trend. There are still people using these tools. There are more people using these tools and more media on these networks than there were prior to litigation campaigns. But the recording industry would point out that maybe there would be even more of it today if it hadn't started litigating. Inother words, maybe the rate of growth has been slowed.
Depending on which reports you read, NPD Group says that from March of 2004 to March of 2005 file sharing activity is up 25 percent. Our view of the same phenomenon puts it somewhere closer to 20 percent growth. But it's significant growth. There are still more people using some variety of file sharing tools than there were in the heyday of Napster.
TNW: There seems to be a discrepancy in the data on file sharing. Why do different firms have such different numbers?
Garland: A lot has been made of this apparent discrepancy. In my view it is not a discrepancy. There are many different ways of taking the tape measure to a phenomenon like this. I think that most of the different researchers are expressing the same story in different terms.
TNW: What is driving the growth?
Garland: In many ways we created a mystery where there doesn't have to be one. The entertainment industry has agonized over this presumed magic formula. The record industry is asking, "Why is it so popular? Why do they keep taking our music despite all of these very well intended efforts to offer them the alternatives?" It has little to do with P2P, per say. People don't know what's under the hood of their computer music tools any more than they know what is under the hood of their cars. People don't care about peerto peer as architecture. That is the domain of geek developers and programmers.
The equation is simple and not mysterious at all. The MP3 has become over the past few years the de facto consumer standard, like a compact disc or a cassette tape. This is a form of storage medium that is compatible with everybody's life. Because MP3 has become such a consumer standard, people know it works. That leads to simplicity, usability, and compatibility, and no restrictions on use. Restriction on use is a layer of complexity that is unfamiliar to music buyers who have for generations bought a piece ofrecorded music done whatever they wanted to do with it.
A peer-to-peer network offers you ease of use in the MP3 format, unlimited selection, no complicated fine print, and, of course, last but not the least the price is right it. It's free. The entertainment industry has a tough time providing that consumer wish list. The entertainment industry doesn't like the MP3 file format because it doesn't adequately protect their content. They can't provide an unlimited selection because of copyright laws. Then there's all the fine print with running a subscription service. File sharing is simple and it works for everybody and all the good stuff is there.
TNW: Are legitimate music swapping sites making a positive impact on the market?
Garland: That is a tough question to answer. On one hand these businesses are really nascent. They started from nothing about 18 months ago. Before Apple iTunes there was nothing on the horizon in terms of paid download services. We all caught the bug and everybody bought an iPod. The problem is the iTunes music store didn't do the kind of volume that everybody thought it would.
Apple has sold more than 12 million iPods but only about 500 million songs. Even though it holds 10,000 songs, people are only spending $25 over the year. That's about the price of two CDs. It is not like a digital music revolution that accounts for half of music revenues. So the problem is now there is an expectation in the industry that .99 cents isn't enough. You might as well be giving away music for free.
Now they are scrambling to raise the price. How do you think the users will feel about this now that they have gotten used to .99 a song? So they are talking about bundling songs. If you want one song you can't buy it individually. You have to buy it as a three-pack. But that could kill the golden goose because in an attempt to raise the price you might drive them away.
Another approach is the subscription model. Every man, woman and child pays $20 a month to rent music. That's a good deal because they are spending over $200 a year. The recording industry is hoping the subscription model will catch fire. Consumers in focus groups we've hosted have said it is an appealing model, but they still want to be able to swap files so they can listen to it and then build a permanent collection of MP3s.