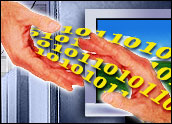 The once-controversialBitTorrent has inked deals with several hardware manufacturers to embed its software in consumer products.
BitTorrent makes a peer-to-peer digital content delivery platform known by the same name. The platform, along with others like it, has come under fire in the past for hosting pirated files. However, while some of its competitors were shut down following legal action by industry bodies, the tide seems to be turning in BitTorrent's favor.
BitTorrent began partnering with both major and independent studios earlier this year to gather and distribute legal content for either a subscription or per-video fee. Now, the company is collaborating with hardware manufacturers in a bid to include its platform on electronic devices.
BitTorrent's Fast Growth
Given the growth in adoption of BitTorrent and other file-sharing technology around the world, it seems that consumer electronics manufacturers are beginning to see its potential.
BitTorrent has consistently promised "painless and disruptively cheap" file publishing online and is now winning the attention of hardware manufacturers with the promise of a fast, seamless download experience for their customers.
ASUS, Planex and QNAP are among the first CE manufacturers to implement the BitTorrent download manager into their digital home devices; in the U.S. alone, 30 million households will have an entertainment network by 2010, according to Parks Associates.
Seeking the Rosetta Stone
CE makers are continuously searching for the Rosetta stone of the connected entertainment market, according to Harry Wang, research analyst with Parks.
"To move beyond the early adopter stage, CE manufacturers must ally with content and service providers, software developers and silicon designers to build elegance and usability into the product design and bring popular digital content to consumers' fingertips anywhere in the home," Wang said.
BitTorrent is hoping its reputation for high-quality digital content delivery will help it become the key ingredient in the realm of Internet-connected devices.
Testing the Waters
However, the company may still have a bit of a stigma to overcome. The fact that it has struck deals with less familiar consumer electronics brands rather than industry giants indicates that there may yet be some reluctance to fully embrace the concept, according to Inside Digital Media Senior Analyst Phil Leigh.
"As long as the file-sharing is legitimate, this is an entirely appropriate software for these consumer electronics manufacturers to add," Leigh told TechNewsWorld. "The concern, of course, that some of the more popular brands like Panasonic and Sony would have is that it could lead to piracy unless there's protection built into it."
This is a significant step in the direction of legitimizing BitTorrent technology, he said, noting that the users, not the technology providers, are the ones responsible for using content appropriately. However, the major appliance manufacturers haven't decided yet if they want to make the software available to the public, he said, "because it does have the potential for misuse."