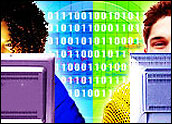 Is that a newspaper article you are reading online? Or an excerpt from a blog with commentary to follow? It's getting difficult to tell these days — and it may get more difficult starting this week.
Pluck is set to release a syndication service on Tuesday that delivers commentary from 600 bloggers. The company is targeting newspaper publishers looking for additional content to populate their online venues.
Black and White and Blogs All Over
Media giants like Gannett, Washington Post Co., the San Francisco Chronicle, the San Antonio Express and Austin American-Statesman have already signed up for the syndicated service. Pluck plans to expand its offerings to push editorial materials to overseas publications in the future.
"It was inevitable that newspapers would recognize there are some really good writers and excellent journalists out here in the blogosphere," WhatsNextOnline President and blogger B.L. Ochman told TechNewsWorld. "It makes sense to bring some of our content in — and getting paid for it is not a bad thing, either. People will do a lot for exposure."
Standing Out From the Crowd
Pluck's BlogBurst service bills itself as a tool that gives publishers "access to the best of the blogosphere," and provides editorial management tools that help filter and select appropriate content. BlogBurst's editorial team screens the content before passing it along to media giants.
Bloggers, on the other hand, are promised visibility, audience reach and traffic. Some bloggers have asked about compensation or "what's in it for them," according to BlogBurst Editor Eileen Smith. Those are "completely fair questions but something we're still working on," she wrote in her blog.
"When we first started recruiting people for BlogBurst, we had definite blog topics in mind based on our publisher's needs. As more blog requests for invites have poured in, we've been pretty overwhelmed — in a good way — with high-quality blogs that stand out from the crowd," Smith wrote.
Drawing the Line
Will this new service draw the line between progressive newspapers and traditional newspapers? It's already happened, according to Ochman. Certain newspapers are ignoring blogs altogether while others are enthusiastically jumping on blog, she said.
In Ochman's neck of the woods, New York's Daily News has added blogs to its content lineup, while The New York Times has increased its number of featured blogs as well, though it still doesn't link to the blog area from its home page.
"If there was any doubt that blogs are a part of the landscape this ought to make people realize that this is not going away. This is a new medium and it's apparently valid enough to be seen alongside, and even inside, of old media. It's the 'if you can't beat 'em join 'em' philosophy," Ochman said.
Turning the Tables
Meanwhile, personal blogging service TypePad is turning the tables on that concept with a new scheme announced Tuesday to offer syndicated lifestyle content through Live Informed, a lifestyle article feed service of Adfusion. The feed will provide regularly updated articles on living trends written by professional editors.
"We cover the issues that are important to consumers," said Katrina Van Overbeke, Adfusion Strategic Partnership Manager. "Most news feeds are hard news/daily news, we provide unique high-quality, updated lifestyle content." Live Informed offers articles on topics like automotive, education and careers, family, food and entertaining, healthy living, home and garden, personal finance, and weddings.
Live Informed was one of 30 companies chosen by Six Apart to enhance the experience of TypePad bloggers and readers. TypePad said the partnership allows bloggers to publish maintenance-free article feeds to their blog while enhancing reader experience through targeted lifestyle content.