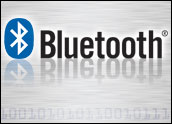 Carmakers are rapidly incorporating wireless Bluetooth technology into their new vehicles, moving at such a pace that nearly a third of all new cars will feature the equipment within five years.
That's a dramatic increase, up from 3 percent last year, according to a new report from the Boston-based technology and consulting firm Strategy Analytics.
"Automotive pricing, promotion, and product positioning of Bluetooth versus other in-vehicle features will be critical to how sales rates develop over the next two years," said Clare Hughes, an analyst with the automotive practice of Strategy Analytics.
A total of five key factors have led to an increase in integration of Bluetooth technology in automotive applications over the last year, including: a growing consumer awareness of Bluetooth; a speedy adoption of Bluetooth on cellular phones; strong automotive consumer demand for hands-free solutions; increasing availability of Bluetooth solutions in the original equipment and aftermarket; and legislative measures.
Aftermarket Growth
"As we have already seen with portable navigation, poor competitiveness from carmakers and automotive system suppliers will result in aftermarket vendors taking a greater share of the growing consumer demand for Bluetooth," said Hughes.
The report, entitled, "Automotive Communications Market: Bluetooth in 30 Percent of New Vehicles by 2012," also cautions carmakers not to "leave this opportunity" to aftermarket vendors, Hughes added.
Other analysts in Europe and the U.S. concur with the coming growth of Bluetooth.
Bluetooth technology continued its ascent as the leading short-range wireless data transmission standard last year, according to Research and Markets, a Dublin, Ireland-based research consultancy, and will do even better this year, leading to Bluetooth adoption in notebook PCs, PDAs and, of course, automobiles. Stereo headsets, game consoles and MP3 players will be future growth areas for Bluetooth as well, the researchers noted.
Dramatically increased shipments in 2006 of Bluetooth are primarily because of significantly higher data rates than were previously possible with the technology. A brand new, higher bandwidth version of Bluetooth, sent over Ultrawideband (UWB), is being readied to ship in products, offering data rates of up to 480Mbps over short distances, declared Research and Markets, which is launching a research service to follow the market.
Because of the demand for the technology, developers are even incorporating Bluetooth into devices used in the machine-to-machine (M2M) communications industry. One product, developed by Motorola, is called the G24 module. The G24 is a quad-band (850 / 900 / 1800 / 1900 MHz) GSM wireless module for M2M communications, as well as man-to-machine and machine-to-man communications markets. Targeted at the automotive and telemetry industries, the data modules enable transfer of information and commands between automobiles, meters, vending machines, handheld devices and other machines.
"The G24 enables our customers to choose multiple configurations, such as EDGE today and JAVA, voice recognition, and Bluetooth SAP in the future. The module is, in essence, a flexible platform that enables our customers to develop cost-effective custom-made solutions." said Aviad Gefen, manager of Motorola's wireless module unit.
The technology is not just for cars and SUVs — but for another sector of the transportation industry as well — motorcycles. Developer Garmin this week said it was debuting a new product, called Zumo, a new from-the-ground-up design of its global positioning system (GPS) unit from cars.
Wireless Motorcycling
An oversized touch screen can be operated with gloved hands, and it is designed so it can be used with the left hand while your right hand accelerates the motorcyle. There's also a display which can be easily read in sunlight, a Bluetooth "hands-free-to-helmet" wireless technology capability, and a rugged, dependable locking mount. The Zumo is expected to be available in October 2006, the company said.
Bluetooth is driving new service industries which will be seen in the coming years.
"The short-range wireless market will evolve to a point at which it is no longer appropriate to assess the total market opportunity by the penetration of a single technology, such as Bluetooth," said Stuart Carlaw, a principal analyst at ABI Research, based in Oyster Bay, N.Y.
"New service clusters will drive new usage scenarios and further develop old ones. To meet consumer demands, this will require clusters of wireless connectivity technologies, not just individual ones," Carlaw explained.