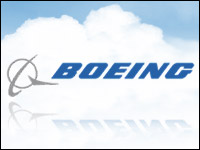 Boeing unveiled the interior of its Crew Space Transportation-100 commercial spacecraft Monday, giving the public a first look inside the craft and offering two NASA astronauts the chance to climb inside and test it.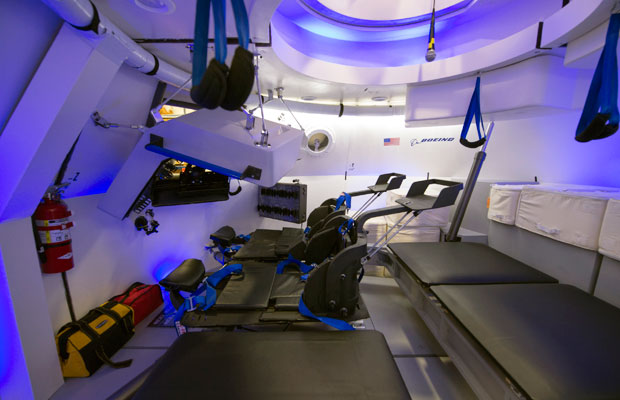 This is an interior view of The Boeing Company's CST-100 spacecraft, which features LED lighting and tablet technology. (Credit: NASA/Robert Markowitz)
The company designed the CST-100 to be a safe, reliable and cost-effective way to send astronauts to Low Earth Orbit destinations, including the International Space Station.
The CST-100 is scheduled to take off in 2016 for a test flight that could help Boeing win a coveted NASA contract to deliver crew to the ISS. Boeing is one of three companies, along with Elon Musk's SpaceX and Sierra Nevada, competing for the job through NASA's Commercial Crew Development program.
So far, NASA has awarded the three companies about US$900 million in contracts to design and build safe and cost-effective spacecraft for LEO travel. NASA has provided seed money, resources and personnel to assist and test the spacecraft the three companies envision and create.
Boeing did not respond to our request for further details.
Shaking Out the Competition
Boeing handled most of the design for the inside of the CST-100. The interior includes two rows of seats that can transport as many as seven astronauts, a touchscreen display, room for storage, shuttle switches, Boeing's blue-tinted LED lighting and a freezer that could be used to carry materials for scientific experiments.
The 14.8-foot-wide vessel isn't complete, however, as it lacks a waste containment system. The company is still considering ways to address that issue.
This assignment is a tough challenge for all the companies involved, said John W. Delano, Ph.D., associate director at the New York Center for Astrobiology.
"Boeing is a superb company with lean and mean operations, and they've done some great things in aeronautics," he told TechNewsWorld.
"It's going to be a horse race to see whether these two upstarts can compete successfully with Boeing, but SpaceX in particular seems to be doing very well," Delano observed. "Ultimately, NASA is not going to continue subsidizing three competitors, so there's going to be a shakeout to see which company can make it. This operation has a short fuse."
Public and Private Partnerships
Commercial initiatives are likely to play crucial roles in the future of space exploration, said Astronauts4Hirespokesperson Ben Corbin.
There have been other points in history when a partnership between public and private entities was the most cost-efficient and effective way to ensure exploration, he pointed out.
Exploration of the American West, for instance, was accomplished through collaboration between the government and private railroad companies, which shared resources and funding to advance westward expansion.
"We're seeing funding for NASA decline, but at the same time the barrier to entry for the private [sector] is a little too expensive for those companies to handle on their own," Corbin told TechNewsWorld.
However, "with the help of governments, frontiers have been open through public and private partnerships," he said. "We have a lot of historical parallels that say that this is the right direction for space exploration."
Ultimately, that type of partnership can free up funds for NASA to explore beyond LEO, where private companies have not yet ventured, said Delano.
"If NASA isn't encumbered by some of these more routine operations like space station dropoffs, it has more funds to potentially do the kind of really exciting discovery and exploration that will leave it with more of a historical legacy," Delano argued. "Those are the kind of missions that will really make other nations say, even years from now, 'Wow, how did they do that?'"